Several girlfriends and I had a "girl's day out" at Spa Castle Queens (in College Point) last Saturday. I love a great massage, so I have visited many different spas in my lifetime. This experience was much different than any of my prior spa visits though. Several of my Facebook friends wanted to know what I thought and if I would recommend this spa. Since my Facebook friends are a mixture of guys and gals, I responded that I recommend the second floor and above.
Kim didn't want to swim in the nakey pool, this is what I'm thinking… I've heard some hilarious stories about these spas." – my friend Sarah
I had to laugh, because she basically hit the nail on the head. While I really enjoyed myself overall, I am a private person and I wish that my friends had warned me that the first floor was basically a nude area. There are two separate first-floor entrances – one for the women and one for the men. (My friends had thought that I already knew about the naked floor.) Now, I know.
As a friend, I want to share with you what you REALLY need to know before visiting Spa Castle Queens…
1. Everything is connected to your wristband. I like that both lockers (a small one for your shoes and a larger one for your clothing) that you will use are connected to the wristband that you receive when you enter the spa. You swipe it and it opens or shuts the locker. Any spa services (massages, scrubs, etc.) and meals that you want to purchase during your stay are just charged to your account through your wristband number. You don't pay anything (besides the entrance fee) until you are ready to leave the spa.
2. If you're private (like me!), skip the naked shower and spa pool area on the first floor. I wish that I had known the difference between the open and private options. I mistakenly signed up for a scrub/massage combo on the first floor. The attendant told me to go and take a shower and wait there (naked!) until my masseuse called me. What?! I kept my panties on and covered myself with a towel until it was time for my massage though. It was so awkward because everyone else around me was naked – in the open showers, in the sitting pool and walking around. It was very European. It was kind of beautiful in that people were comfortable letting their everyday (not "model type") bodies be free in the open for all to see, but it's just not my thing. I have no problem with my or my husband's naked bodies. I can pass on looking at anyone else's though. Basically, I just stared at the clock with my back to the wading area until it was time for my scrub and massage. Fortunately, my treatment was worth my initial discomfort. I was thoroughly scrubbed and massaged. By the time that my masseuse was finished, my skin felt as smooth as silk. I also like the fact that you don't need to bring cash for gratuities – it is already included in all of the spa services.
3. Realize that you have options if you want a massage. After I finished my massage, I hurried to get dressed in the Spa Castle uniform that I was given when I checked-in to the spa (shirt and tee, no shoes) before rushing to the second floor. It was there on the second floor that I met up with my girlfriends. THEY had booked private massages on the second floor and were smiling from ear to ear. I'm definitely more private than "open" so my future massages will definitely be booked on the second floor!
4. Try out the various Sauna Valley saunas, resting areas and food options on the second and third floors. There were several different sauna options – including LED Color Therapy, Far-infrared, Jade and Gold options . One of my friends served as my guide and we tested all of the saunas. My favorite was actually the Ice Land one, because I like cool air better than the heat. The Jade and Mineral Salt ones were my other top picks. There are also a couple of Relax Rooms/resting areas where visitors can lay on a mat on the floor or in lounge chairs…and rest. Isn't it wild that people pay to go somewhere to take a peaceful rest? They must have kids…or roommates.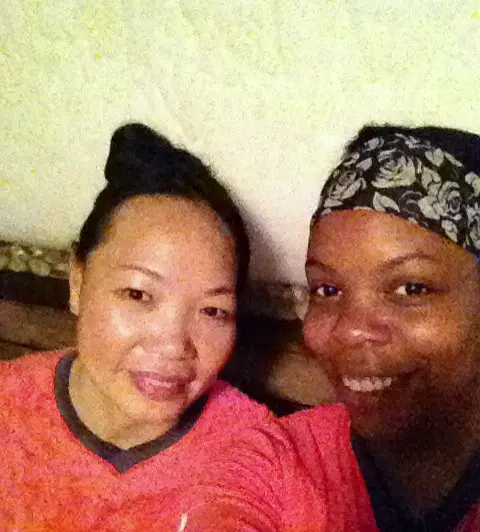 5. Take a break and have lunch at their Asya restaurant. There are a few different food options at the spa. There is a pay by the pound ($12 a pound except for fruit which was $10 a pound) buffet area, a Starbucks, a sushi spot and more. One of my friends and I chose to have lunch at the indoor restaurant Asya. I ate Bulgogi, a slightly sweet beef dish, and my friend had chicken teriyaki. The reasonably priced food was really good and we were both pleased with our choices. It was nice to take a lunch break from all of that pampering and relaxing. 🙂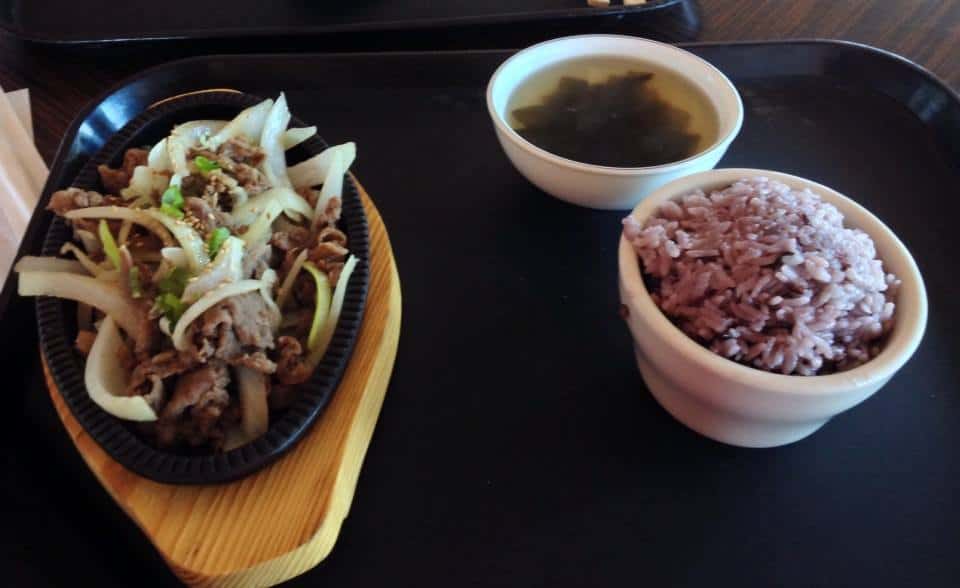 6. Consider making it a day-long outing to give yourself time to linger in the indoor or outdoor pools on the upper floors. I stayed at the spa for four hours and did not even make it to the upstairs pools. Unlike the first floor naked-only pools, the upper floor bade pool areas are co-ed and bathing suits are required. It was such a beautiful day on Saturday that it would have been the perfect time to lounge in the various whirlpool style pools. Some were sitting pools. Others were standing medi spas. There were even laying down pool options. There really was something for everyone.
Overall, I had a wonderful, relaxing time. Spa Castle Queens is a little challenging to get to geographically if you don't have a car, but I think that it is worth the trek. It is a great place for a girlfriend or couple's day out. Although I wouldn't do so, some people even brought their kids with them and had family spa days. (There is even an exercise room at the spa. It was empty, but it was there.) In any event, I definitely plan on going back and enjoying Spa Castle…floors 2 and up.

Spa Castle Queens
131-10 11th Avenue
College Point, NY 11356
http://spacastleusa.com/ny/