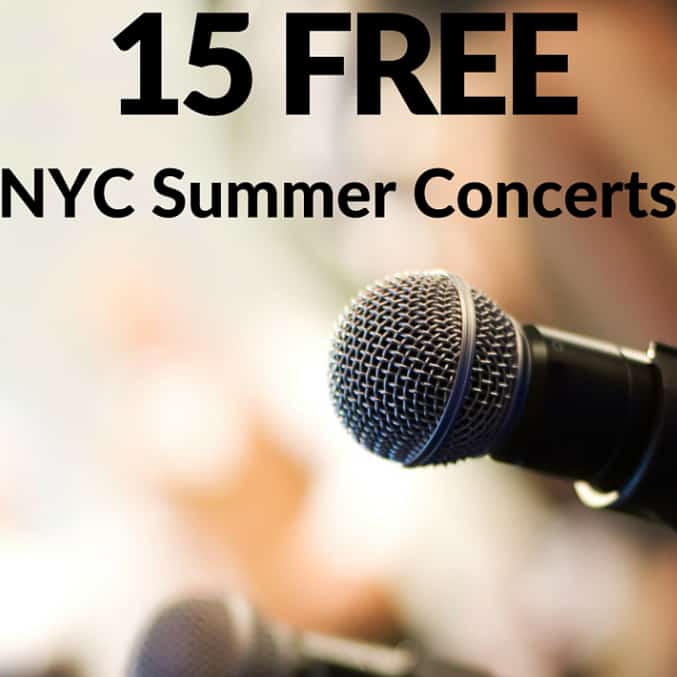 I love living in NYC year-round. However, summer is my favorite time to live in the city entertainment-wise. There are so many free and low-cost events in the summer that are great for families. I wrote about some of them in the 25 Free Things to Do in Queens NY in the Summer post and will be sharing more general NYC free events (movies, etc.) in the weeks to come. Today, I'm sharing the 15 best free concerts in NYC in the summer. Whether you are looking for options to enjoy on a date, hanging out with friends or with your family, these are all great picks!
1. Broadway in Bryant Park
Thursdays (July 7th to August 11th) from 12:30pm to 1:30pm
Bryant Park
Popular on and off Broadway show stars perform their hits in these 6 performances.
2. Good Morning America's 2016 Summer Concert Series
Fridays through September 2nd; Doors open at 6am
Rumsey Playfield in Central Park
This year marks the 8th year of this series that airs live on the "Good Morning America" show from 7am – 9am. Sia and Keith Urban are just a couple of the planned performances.
3. IDNYC card concert halls
The ID card offers free one-year memberships to an assortment of cultural institutions including certain NYC concert halls.
4. Lincoln Center Out of Doors
Various dates, July 20th through August 13th
On the plazas of Lincoln Center
There are many performances (including multiple musical concerts and family events) in this free series.
5. Mad. Sq. Music Summer Series 2016
First concert on June 30th at 7pm, more concerts to be announced soon
Madison Square Park
This eclectic outdoor concert series of nationally touring acts is held on the Oval Lawn.
6. Metropolitan Opera's Summer Recital Series
Multiple dates, June 22nd to July 13th
The Met's annual Summer Recital Series offers six performances (featuring rising opera stars) in the parks of all five boroughs.
7.Naumberg Orchestral Concerts
June 28th to August 2nd
Naumburg Bandshell
This is the 111th year of free classical music concerts. 
8. NYC Parks Free Summer Concerts
Various dates
There is an assortment of performances – rock, folk, jazz, classical, world, etc. – at the parks this summer.
9. Summer in the Square
Various dates
Union Square
A variety of music (jazz, hip-hop, etc.) is offered on the park's South Plaza and in the West Side seating area.
10. Summer on the Hudson
Various dates
Riverside Park & West Harlem Piers Park (from 59th street to 153rd along the Hudson River)
This popular annual outdoor arts & culture festival includes a diversity of music concerts.
11. Summergarden: New Music for New York
Sundays, July 10-31 (gates open at 7pn)
MoMA's Abby Aldrich Rockefeller Sculpture Garden
Jazz and classical music are performed in this concert series.
12. Summerstage
Various dates
There are 115+ performances (including multiple music concerts) being held in 16 parks throughout the five boroughs.
13. Hudson River Park's Sunset on the Hudson
Fridays (June 10th to August 19th) at 7pm
Pier 45 in Greenwich Village
Enjoy some of the city's favorite local musicians at this annual concert series.
14. Today Show Citi Concert Series
Various dates through September 2nd (mainly on Friday mornings)
Rockefeller Plaza
Access to these concerts of famous musical acts (including Celine Dion and Alicia Keys) are available on a first-come, first-served basis.
15. Washington Square Music Festival
Tuesdays in July at 8pm
Washington Square Park, main stage south of Fifth Avenue
This is the 54th season of free concerts featuring orchestra, opera, jazz and other performances.
If I missed any of your favorites, definitely let me know. Thanks!