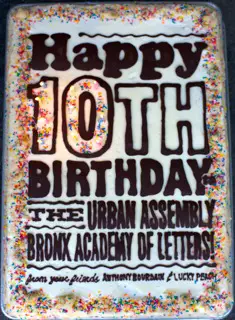 I am excited to be attending this upcoming event as media/press…

Celebrity chef Anthony Bourdain and representatives of the acclaimed food writing journal Lucky Peach will host The Bronx Academy of Letters 10th Anniversary Celebration on April 30th from 6:30pm to 9:30pm. The fundraising event will be held at the spacious Metropolitan Pavilion (110 West 19th Street) and Boulud Sud, Prune, Momofuku, Roberta's and several other notable restaurants will provide food. Ticket prices start at $100 and you can purchase them online at the Bronx Letters event page.
As you may know, my husband is a teacher so I wanted to learn a little bit about The Urban Assembly Bronx Academy of Letters. Founded on the belief that "students who can express themselves clearly in writing can do better in any path they choose in life", the public high school has a great reputation in its community as well as among parents and students. The small class sizes and intelligent, engaged teachers are especially praised. The fundraising for The Bronx Academy of Letters is used to fill in the gaps that are left from The Department of Education's funding for basic school needs. Funds help to support programs and activities such as college visits, their newspaper and literary magazine, teaching and student-support staff and much more.

Even if you cannot attend the anniversary celebration, you can still support the Urban Assembly Bronx Academy of Letters by making an online donation. Please do so if you can!
{Images courtesy of Bronx Academy of Letters}