National Spaghetti Day is January 4th. To celebrate, I will be cooking spaghetti and meatballs with my sons. Spaghetti is one of those meals that everyone in my home likes. I make it pretty healthy – with whole wheat pasta and turkey meat. For some reason, my guys give me a hard time when I try to substitute brown rice for white rice. They are totally fine with the whole wheat spaghetti though. They are also at the point where they like turkey meat – almost as much as beef. Baby steps…
When I thought of kid-friendly recipes for Spaghetti & Meatballs, I thought of the Handstand Kids Cookbook Company. With the tagline "Traveling the world, one recipe at a time!", this company creates international cookbook kits that do just that! Food is such a great window to various cultures and Handstand Kids' cookbook kits serve as a great introduction to the language and cuisine of various countries. As an added plus, each kit comes creatively packaged. For example, The Italian Cookbook that houses the Spaghetti & Meatballs recipe is packaged in a pizza box with a chef's hat. How cute is that?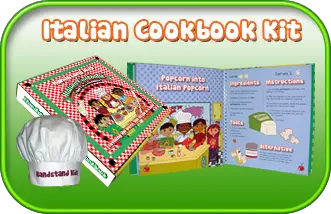 Anyway, I contacted Handstand Kids Cookbook Company and asked them if I could share their special "Mama's Spaghetti & Meatballs" recipe and photos with you and they were gracious enough to say, "yes". Enjoy!
Mama's Spaghetti & Meatballs
Serves 4-6
Level: 4
Marinara Sauce
Ingredients:
Large pot of water
2 lbs (32 ounces) of canned peeled tomatoes (pomodori), chopped
3 tablespoons of extra virgin olive oil (olio)
1 medium yellow onion (cipolla), chopped
3 cloves of garlic (aglio), chopped
2 teaspoons of honey
5 leaves of torn basil (basilico)
1 teaspoon of salt (sale)
1 teaspoon of pepper (pepe)
Tools:
Cutting Board
Knife
Measuring Spoon
Saucepan
Wooden Spoon
Instructions:
1. Chop the cipolla and aglio into small pieces. Over a medium heat, pour olio into the saucepan pan and add the cipolla and aglio for 3 minutes, until cipolla are soft.
2. Add the chopped pomodori and stir in the honey, sale and pepe.
3. Turn the heat to low for 30 minutes and add torn basilico into the sauce.
Polpette di Carne (Meatballs)
Ingredients:
1 lb of ground beef, turkey or pork
2/3 cup of grated parmesan cheese (Parmigiano)
2 eggs (uova)
4 cloves of chopped garlic (aglio)
1 teaspoon of salt (sale)
1 teaspoon of pepper (pepe)
Tools:
Baking Sheet
Large Bowl
Measuring Cup and Spoon
Instructions:
1. Preheat the oven to 375° F.
2. Mix all the ingredients in a large bowl using clean hands.
3. Shape the meat into ping-pong sized balls and put them on the baking sheet.
4. Place the sheet in the oven for 25-30 minutes.
Spaghetti
Ingredients:
1 pot of water
1 teaspoon of extra virgin olive oil (olio)
2 large handfuls of spaghetti
Tools:
Large Pot
Strainer
Tongs
Wooden Spoon
Instructions:
1. Pour the olio into the pot of water and add the spaghetti once it begins to boil.
2. Cook the spaghetti for 8 minutes or until the noodles are soft. Wearing oven mitts, carefully pour the pot of spaghetti and water into a strainer in the sink.
3. Using tongs, place a serving of spaghetti onto a plate and add the marinara and meatballs.
Alternative: For a meatball sandwich, stuff 4 meatballs into a bread roll and add the marinara and parmigiano on top!
Do you have a favorite spaghetti & meatballs dish? If so, how did you come up with it?
(On a side note, as I share various food posts on Tuesdays and Fridays, I will be encouraging you to visit some of my favorite food bloggers. We can discover them together! I have mentioned the wonderful Liz Thompson of This Full House before on the blog. She is a wonderful writer, blogger and person. Well, it turns out that she often shares food related posts on her "Foodie Tuesday" posts on TFH Gone Shopping. Check her out…)