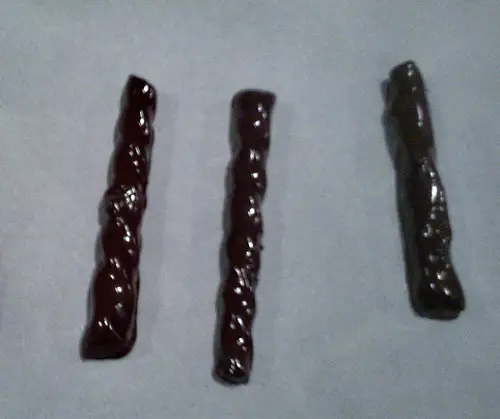 Both of my sons love pretzels, so it was fun for them to dip them into chocolate. I had purchased pretzel rods to dip, but the boys wanted to cover some of their "regular" pretzels in chocolate as well. They were equally good…
Chocolate Covered Pretzels

Ingredients:
4 ounces semisweet chocolate, chopped or disks
Approximately 12 dried pretzels (twisted or rods)
Directions:
1. Line a baking sheet with parchment paper.
2. Melt the chocolate. I use a homemade "double boiler" method. As another option, you can simply melt the chocolate according to the directions on its package, which usually includes a microwave option. The key is the quality of chocolate…get the highest quality chocolate that you can afford. You (and your "gifted" ones) deserve it!
2. Remove the chocolate from the heat. Hold the pretzel rod by the edge and dip it into the chocolate. For the smaller pretzel twists, we just put the entire pretzel in the bowl. It was a little messier, but fun! Gently shake off any excess chocolate. (I sometimes use a butter knife to smooth the chocolate on the pretzels so that the parts that I want covered are smooth.)
3. Place the dipped pretzels on the parchment paper lined baking sheet. Set aside the chocolate covered pretzels until the chocolate is set – about 30 minutes up to an hour.
Variations:
-Instead of milk chocolate, you can use white chocolate or dark chocolate.