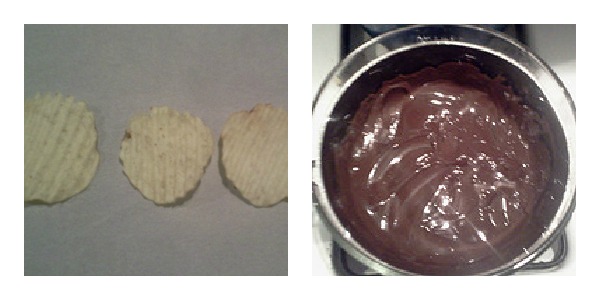 I love this salty sweet dessert! Thick, ridge-cut potato chips combined with melted chocolate makes this simple dessert fulfill both your savory and sweet wishes. Enjoy!
Chocolate Covered Potato Chips
Ingredients:
4 ounces semisweet chocolate, chopped or disks
Approximately 12 potato chips (thick, ridge-cut ones)
Directions:
1. Line a baking sheet with parchment paper.
2. Melt the chocolate. I use a homemade "double boiler" method. As another option, you can simply melt the chocolate according to the directions on its package, which usually includes a microwave option. The key is the quality of chocolate…get the highest quality chocolate that you can afford. You (and your "gifted" ones) deserve it!
2. Remove the chocolate from the heat. Hold the chip by the edge and dip it into the chocolate. Gently shake off any excess chocolate. (I sometimes use a butter knife to smooth the chocolate on the chips so that the parts that I want covered are smooth.)
3. Place the dipped chip on the parchment paper lined baking sheet. Set aside the chocolate covered chips until the chocolate is set – about 30 minutes up to an hour.