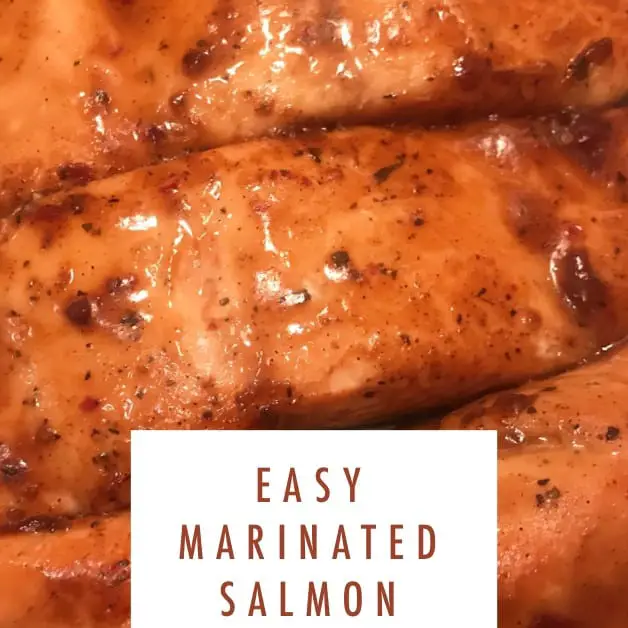 Mondays are currently my favorite (homecooked) dinner days. It's the day that I prepare an easy baked salmon recipe along with asparagus and mashed potatoes.
In the past, I made herb-crusted salmon. I still make it on occasion but it takes less work on busy weeknights to use a marinade.
Salmon Marinades
Currently, there are two marinades that I buy and one that I make.
Easy Baked Salmon Recipe
Easy Baked Salmon
4 servings

Ingredients:
Directions:
1. After sprinkling the salmon with salt and pepper, place the salmon and marinade in a large sealed plastic bag. Gently shake the bag to coat the salmon before putting it in the refrigerator for half an hour.

2. Preheat the oven to  425°F.

3. Remove the salmon from the marinade. Place the salmon skin-side down on an aluminum foil-lined large baking sheet.

4. Generously coat the salmon with additional, fresh marinade sauce.

5. Bake the salmon for 12-15 minutes (4-6 minutes per 1/2 inch of thickness). The salmon should easily flake with a fork when it's done.
I serve the salmon with lemon wedges. Lemon goes well with salmon. Also, I just like to eat a lemon wedge with a sprinkle of salt on it at dinner. It's a weird combination that I love. It's always funny to hear my kids (dramatically) say, "How do you like that?!" 😂
You Might Also Like