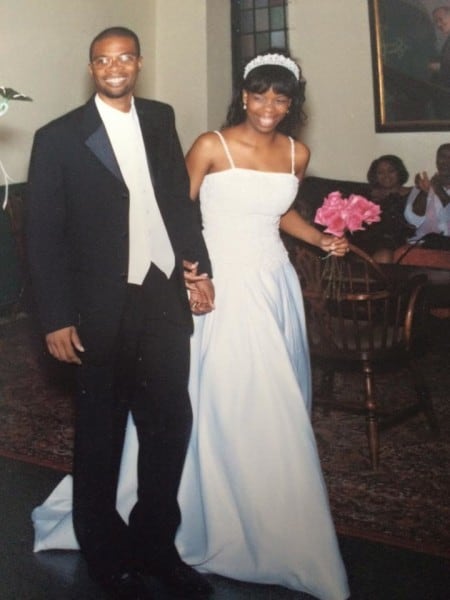 I made one of the best decisions of my life thirteen years ago on June 15th – to say, "I do!" to my wonderful husband Reggie. In addition to saying the standard vows, we wrote our own personal vows. One of the things that I vowed to do was to cook for Reggie and not to order "chicken chow mein prepared spicy" (my favorite dish at the time) too much. Except for during a portion of my pregnancy with Michael when chicken chow mein was the only thing that I could keep on my stomach, I'm happy to say that I have kept that vow. 🙂
Reggie and our two sons love to eat. Don't let their slim frames fool you! When we talk about our favorite things of the day at the dinner table, food almost always makes their cut. I enjoy cooking for them. That is why when "Pyrex®, a World Kitchen brand asked me to share a favorite recipe for Pyrex 100 – in honor of their 100th Anniversary, I decided to share "my guys" current favorite dish – teriyaki ribs! We first tasted this dish at the home of a loving couple who is very dear to our family. Reggie and the boys expressed how much they enjoyed the meal, so I asked our hostess for the recipe. I normally use the Pyrex measuring cup (that I still have from my wedding registry 13 years ago!) to measure the teriyaki sauce, but I used the Blue Pyrex 2 Cup Anniversary Measuring Cup this time. (It's only $4.99.)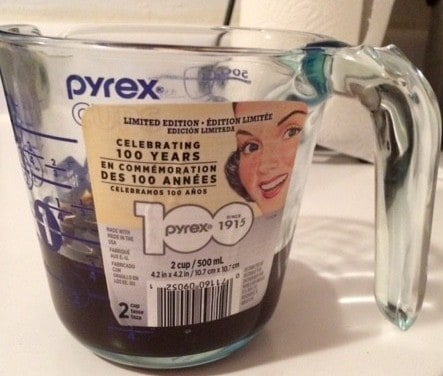 It turned out that the teriyaki rib recipe is not just delicious but also super easy…double score. I hope that you will enjoy it with your loved ones also!
Ana's Super-Easy Teriyaki Ribs
Ingredients
2 pounds pork spare ribs
Salt
3 cloves fresh garlic, minced
¾ cup of teriyaki sauce
Instructions
Preheat the oven to 375 degrees Fahrenheit.
Sprinkle salt over both sides of the ribs and place them into a baking dish. Brush ¼ cup of the teriyaki sauce onto the ribs and sprinkle the minced garlic on top.
Cover the baking dish with aluminum foil and place it into the heated oven. Let the ribs bake covered for half an hour.
Take the dish out of the oven. Turn the ribs over in the pan and brush the ribs with another ¼ cup of the teriyaki sauce before placing the covered dish back into the oven for another half hour.
Take the dish out of the oven. Brush the last ¼ cup of teriyaki sauce on the ribs. Place the uncovered dish back into the oven. Let the ribs cook uncovered for an additional 15 minutes.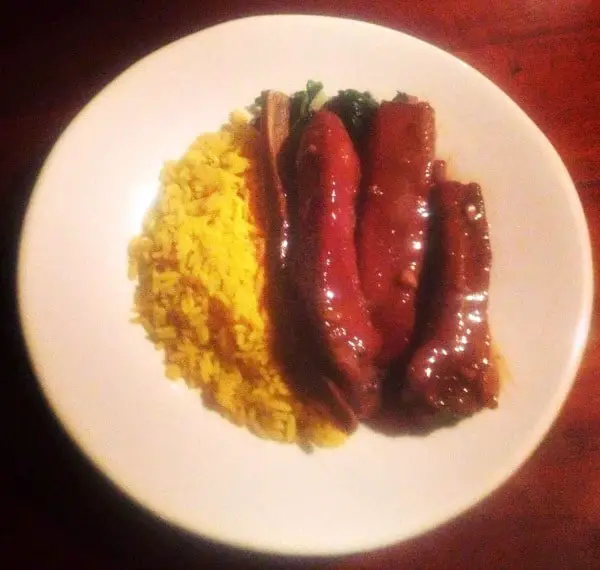 In any event, I'm glad that I get to share about Pyrex's 100th birthday on a special date in my life. It's no easy feat for a company to last for 100 years. The fact that almost everyone that I know who cooks has some type of Pyrex glassware in their home proves to me that quality endures. If you cook at all, definitely take a peek at some of their new, colorful options. Their new anniversary options – which are only available until the end of the year – include 13 colorful new items – from prepware to bakeware to storage. You can also enter to win a Pyrex prize by entering the giveaway at the bottom of this post.
Disclosure: I am being compensated for my participation in the #Pyrex100 campaign, sponsored by Pyrex®, a World Kitchen brand. As always, all opinions are my own.
The Pyrex® 100 Days of Giveaways is sponsored by World Kitchen, LLC. There is no purchase necessary to enter. In order to participate, you must be a legal resident of the fifty United States or the District of Columbia and must be at least 18 years old at the time of entry. Entries will be accepted from March 22, 2015 at 10:00:00 a.m. ET until June 30, 2015 at 9:59:59 a.m. ET.
Disclosure: I have happily partnered with World Kitchen LLC to share the wonderful Pyrex® 100th Anniversary product line. All opinions are my own.