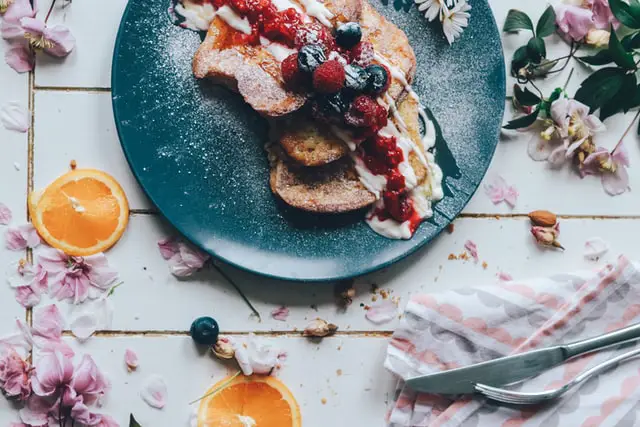 My husband and kids are not big breakfast fans. We all eat it though because "breakfast is the most important meal of the day" has been drummed into our psyches. My French toast recipe without vanilla is one breakfast that we all enjoy though.
I rarely cook a large breakfast meal unless we are entertaining. My brother and his wife really like breakfast, so I asked them what they would like while they were visiting us. (My whole philosophy in entertaining/cooking for others is to give them what they will enjoy…in moderation of course.) The first day, their request was for scrambled eggs, turkey bacon, French toast and orange juice. That was simple enough.

To switch things up the next morning, I asked if they would like pancakes or anything else. My brother insisted that we have French toast again since he had enjoyed my French toast recipe without vanilla so much. "I didn't know that you knew how to cook," he said. "When did you learn how to cook?"

The truth is that I have pretty much always known how to cook. I just didn't need to do it growing up. I was the youngest of five, so there was always someone else to do it! Now, if I want my family to eat, I need to cook (or order/dine out). Eating out is a nice treat, but I cook most of the time.
If you ever want to make delicious French toast, below is my basic French toast recipe.
French Toast Recipe Without Vanilla
Easy French Toast Recipe
(Serves 2 – 3)
Ingredients:
2 eggs
1/2 cup of whole milk
2 tsp sugar
1/4 tsp cinnamon
butter
4 to 6 slices of day-old bread (4 if thickly cut; 6 if regularly sliced sandwich bread)
Instructions:
1. Whisk the eggs, milk, sugar, and cinnamon together in a large, shallow bowl.
2. Dip both sides of each slice of bread in the mixture thoroughly coating the bread. Place the battered slices of bread to the side. (I use a baking sheet.)
3. Coat your 10-inch nonstick frying pan or griddle with a thin layer of butter and heat on medium heat until it is hot. (You can tell that it's hot enough by letting a few droplets of water fall on it. The water will sizzle/ "dance" when the pan/grill is ready.")
4. Place the battered bread in the heated pan or griddle and cook until golden brown on each side. This will take approximately 3 – 5 minutes per side. If you're cooking with a pan, then you will be able to cook 2 slices at a time.
More Options
The thing that I love about basic recipes like this one is that you can always change them up based on who is eating the meal. My brother has simple tastes, so French toast made with whole wheat bread was the best bread. (I don't normally have white bread in our home.)
However, you can use thicker cuts of bread like challah bread, brioche, etc for the type of bread slices. (Some people even prefer to use stale bread for good French toast!) As another option, you can also add vanilla extract to the dipping egg mixture. Once the toast is cooked, you can sprinkle it with confectioner's sugar for a "pretty" touch.

You can also add sliced fruit (bananas, strawberries, etc.) on top and serve it with maple syrup. For the best results, it's all about knowing the tastes of the people that you are serving. If you make it all about them, they are bound to enjoy their meal!
If you enjoyed this post, please share it. In addition, consider signing up for my weekly email newsletter so that you don't miss future updates. Thanks!
You Might Also Like
(Post Image Courtesy of Toa Heftiba on Unsplash) *I was too busy cooking and eating!