"Being a geek isn't always a bad thing…" That's what I thought after the Geek Squad left my home. (They had come over for me to review their services as part of a "Holiday House Call" promotion.)
Before they came, I had a call with them regarding my family's tech needs. I have mentioned before how excited my family was to be a part of Panasonic's Living in HD program. (We're family #53.) As part of the program, our family was loaned a variety of products including a home theater. In April, our suite of products was installed. The only problem is that we moved in July! So, for the last few months, we had all of the pieces at our new place, but they were not connected together. (Panasonic would have re-installed the suite, but I didn't want to ask them only three months after the initial installation!) Anyway, when the Geek Squad made the offer, I jumped on it. The main thing that we needed was for the pieces to be connected together – television, surround sound, Blu-ray and Wii. We also needed the wireless connection for our Toughbook laptop to be reset. (We had missed using the laptop the most.)
Finally, the timing worked out and the Geek Squad came over. They were able to do what I had requested…and more. While there, they looked at my home computer and volunteered to clean it up a bit. To my surprise, they found a virus on it which was part of the reason that it was loading so slowly. I get indignant when it comes to viruses. I just don't get what makes people spend their time messing up strangers' lives. When I verbalized my disgust, one of the techs answered my rhetorical question. Hackers normally do it for either attention "Hey! Look what I did…" or money (they often disguise themselves as safety products, people put in their credit card numbers and lose that money). Well at least they didn't get my money.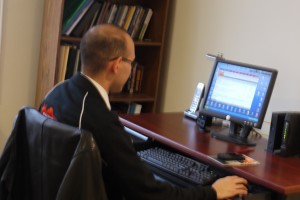 What made me laugh during their visit was how badly the Geek Squad tech kept talking about my PC. He asked me when did I buy it…ten years ago? NO! I have not even been married 10 years and I bought the Dell as a birthday gift for my husband a couple of years after we were married. I get it. My PC needs to be upgraded. (It was suggested that I get a new PC every five years or so.) "Do you want to know another reason that your computer starts up slow?" the tech asked. (Well, since you asked…) It turns out that the Norton Anti-Virus program that my husband bought needs a minimum of 500 RAM (memory) to load and my computer only has a RAM of 512. So, how much RAM does a newer computer have? About 10 times as much…4,000 RAM is the standard. Okay, I get it. I need to put a new computer on the Christmas or birthday wish list. Honestly, it was a fun conversation. We were joking back and forth. I really do dig tech geeks. I like anyone who is passionate about their work. (On another note, I asked how my computer got a virus when we have Norton. The tech gave a nice visual. Norton – and other legitimate anti-virus programs – are like security guards. They keep out most computer "criminals". However, just like a robber can shoot a security guard causing them not to be able to protect you, certain computer viruses can get past anti-virus programs. Great.)
In any event, if you need help connecting any of your tech gadgets during the holiday season and beyond, consider using the Geek Squad. They did a wonderful job for me. A guy friend of ours is getting a huge television and we talked about him hiring Geek Squad to install it for him. Two things to note about the Geek Squad: they are not inexpensive and scheduling can be a bit of a hassle. However, if you're like me (willing to pay a premium price for excellent service), then schedule one of their techs as far in advance as possible and hire the Geek Squad.