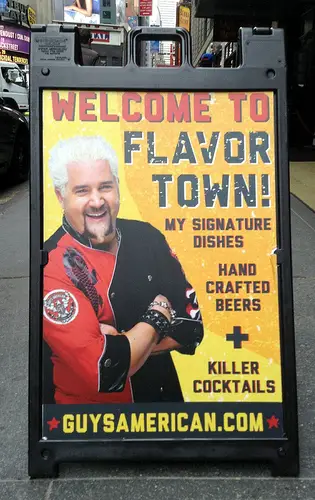 As I mentioned in the Peanut Butter Caramel 3-in-1 Sauce Recipe post, the kids and I recently went on a media visit to Guy Fieri's midtown NYC restaurant, Guy's American Kitchen and Bar. The Times Square area restaurant opened in October of 2012 and recently introduced a new kids menu with healthier choices.
Since the kids' meals were the main point of the visit, I told Sean (9) and Sean (6) that they would be my "junior reviewers". I had no ideas how seriously they would take their job. "So, what do you want us to judge them on?" Michael asked. (It turns out that the kids have been playing Papa's Burgeria on Coolmath-Games.com. In the game, you are scored based on customer service and burger preparation.) To keep it simple, I told them to just let me know what they thought about the service and the food. Our thoughts…
Service:
The service was quick, friendly and helpful. It helps that we went on a Thursday at 2:30pm – not at peak time. The place is huge, but (as a former waitress) I still like to go to restaurants before or after rush hours. Also, as I told the kids, it WAS a media visit. While waitresses are usually friendly and helpful, I let the boys know that normally the manger, general manager and chef don't come to each visitor's table to chat. (The boys want to test me on this though…)
Food:
Kids Meals
The kids' meal options were a good mix of healthy and typical kid-friendly meals (cheeseburgers, chicken tenders and mac n cheese). I especially appreciated that they make everything on the kids' menu from scratch except for the pasta. The healthy options included a veggie burger, grilled chicken tender salad, spaghetti and turkey meatballs, a grilled chicken quesadilla and the fruit kabob with peanut butter caramel. Everything (with the exception of the kabob which was $6) was priced at $12.50. The price included fries or carrots and celery sticks or green apple wedges.
Michael humored me and ordered from the kids' menu, since he normally likes to order from the main/adult menu. He had the grilled chicken quesadilla. He enjoyed it…and I found a new dinner to make at home. While we have done taco night many times, I have never prepared quesadillas. I grill chicken often, so I just need to add shredded Mexican cheese blend and whole-wheat tortillas. Score!

Sean tried the mac n cheese. He didn't especially like the top layer because it had a crunchy cheese cracker topping, but he liked the softer, cheesy elbow macaroni underneath. (Michael liked the mac n cheese leftovers.)

We all shared the fruit kabobs with the peanut butter caramel as dessert. I had forgotten how much kids like to dip things! Normally, it's a hassle to get Sean to eat fruits besides grapes and oranges, but he was dipping those green apples into the sauce like they were his favorite fruit ever. I'll take it.
Main Menu
Of course, I didn't just sit there and watch the kids eat. I had lunch too. I asked both the waitress and the chef (at separate times) what I should order. The waitress picked Sashimi Tacos for an appetizer, the Pulled Pork Slyder Plate for a sandwich or Cedar Plank Salmon with Jalapeno Apricot Jam as an entrée. Meanwhile, the chef recommended Sashimi Tacos for an appetizer, Unyawns Cajun Chicken Ciabatta for a sandwich or Motley Que Ribs as an entrée. I ended up choosing the waitress' picks.
The Sashimi Tacos were amazing. I have texture "issues", so I was happy that the crispy wonton tacos balanced out the soft tuna. The mango salsa and other flavorings were the perfect additions. I let Michael try one of the tacos, since sushi is one of his favorite foods. His thoughts: "This is better than sushi! It's like heaven on a plate." (Yet, when the chef asked him how it was, he gave a 1-word answer: "Good". Oh, well…)

The Pulled Pork Slyder plate was also really great. The pulled pork was tender and juicy. The bourbon brown sugar BBQ sauce was a bit too sweet for me, but the coleslaw and bacon (mmm…bacon) that it was served with brought it down to my preferred taste. (I only like sliders/sandwiches with a little sweetness.) Michael also enjoyed the dish. What can I say? He's a little foodie!

In any event, we all enjoyed our lunch at Guy's American Kitchen and Bar. Because we live in NYC, Times Square isn't the first area that I would think of going to visit for a restaurant meal. However, it's a great option for tourists and for locals who happen to be in the neighborhood. For instance, Toys R Us – a kid favorite – is less than 2 blocks away from the restaurant. (We actually ended up paying that store a visit after our lunch since both boys wanted to see what they could get with their birthday gift money.) Family friendly theater shows (i.e. Matilda is opening across the street from the restaurant) are other nearby options.
We will return. I walked away from lunch saying, "I'm inspired to make some of the dishes from the menu." Michael countered, "I'm inspired to EAT some more of their dishes." Meanwhile, Sean insisted, "We have to go back and take Daddy. He would like it." I think that your family would enjoy Guy's restaurant also.
Get the flash player here: http://www.adobe.com/flashplayer
GUY'S AMERICAN KITCHEN AND BAR
220 West 44th Street
New York, NY 10036
(646) 532-4897
Thanks to Guy's American Kitchen and Bar for the meal. As always, the Coleman family opinions are our own!
If you enjoyed this post, don't miss future ones! Please be sure to sign up for my email updates. (Also, if you're on Pinterest, let's follow each other.)