Congrats to the winner: Jodi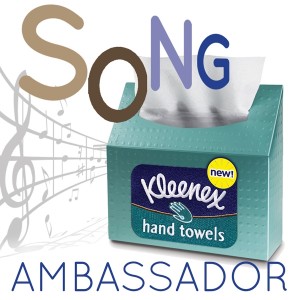 Recently, my friend Emily from The Motherhood asked if I would like to be a part of a (compensated) Kleenex Hand Towels Song campaign. I replied, "We use Kleenex here (at our home), so I would love to be a part of this project." Kleenex has come up with a cute little song to teach kids the importance of proper hand drying and I'm happy that I get to share the message along with several other bloggers including some very lovely ones whom I have met over the last couple of years. Along this promotion trail, I have even learned a thing (or two):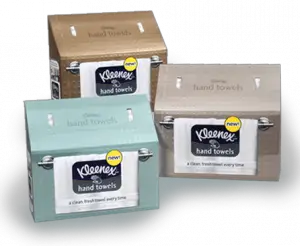 1. Even after washing your hands, they are only as clean as the towel that you use to dry them. (According to recent studies from the CDC, hand towels can be dirty even if you don't see the dirt.)
2. Single use towels have been shown to be more hygienic/to prevent the spread of germs than cloth hand towels.
The thing with any new knowledge is that it brings up more questions. Since we are all concerned with the environment (to varying degrees), we will be learning what the best environmental practices are in keeping with this information. I'll keep you posted…
Meanwhile, here are the lyrics to the hand drying song:
The Kleenex® Hand Towels Drying Song
My hands are gonna be clean
When I wash and I dry with mommy and sing
This song that's exactly two clean hands long
Warm water and soap and bubbles that shine
A Kleenex Hand Towel that's mine all mine
And a song that's exactly two clean hands long
No yucky old towel's gonna ruin my day
I dry my hands the Kleenex towel way
So if you're a fan of clean hands too
Roll up your sleeves and I'll sing with you.
You can hear the Kleenex version of the song and learn more about their hand towel product along with learning some educational hygeine activities at KleenexHandTowels.com.
Over the next couple of weeks, I will be posting pictures of my kids using the towels. I also want to come up with our own version of the song. The only hiccup – the "song" part didn't register with me…we are definitely not a family of singers. I have an idea though. You know how kids learn (practically) everything better to music? I'm thinking of doing a compilation of useful bathroom kid songs (teeth brushing, hand washing & adding the hand drying song at the end). If the kids sing it, it won't be that bad, right? Right? They are little…they will at least get an "E" for effort.
There is also a prize for one Mom in the City reader that comes along with this promotion – a $50 ServiceMaster gift certificate. You can use it towards services from any of their companies. Personally, I suggest using it on Merry Maids cleaning service to get your bathroom clean. (Actually, I need that. With three guys in the house, I feel like I'm constantly cleaning the urinal/oops, I meant bathroom!) To win, listen to The Kleenex® Hand Towels Drying Song at www.kleenex.com/HandTowels/ and let me know what you think about it in the "Comments" section below. Normally, I do single-entry giveaways, but I'm going to give you two more entry options for this promotion. For additional entries, please:
1. Share your thoughts about the song on Twitter. (Be sure to add #KleenexSong to the end of your tweet as a hashtag.)
And
2. If you're really feeling inspired, create a YouTube video about the Kleenex Hand Towels and the song.
I will pick a random winner from all of the comments on May 15th. Good luck!
Disclosure: TheMotherhood and Kleenex are compensating me for spreading the word about Kleenex Hand Towels and the Hand Drying Song.