A photo with Kristen Davis and two friends whom I adore (Christine and Isabel)
On Friday I attended a luncheon at my hotel, The Kimberly. (Okay, it's not really my personal hotel. They just named it after me…) Anyway, the event was coordinated by my dear friend Beth and hosted by another dear blogging friend Liz. In addition to being a great time to catch up with some of my favorite bloggers from across the nation who were in town for BlogHer, the lunch also served as an introduction to Zarbee's, a natural cough syrup that was developed by pediatrician, Zak Zarbock, M.D. I attended for three reasons:
1.) Beth
2.) Liz
3.) My kids have allergies and I'm a little bit terrified of giving them over the counter children's cough syrup when they have nighttime coughing fits.
I usually just rub vapor medicine on my sons' chests when they are having a hard time with coughing since reading about FDA cough syrup concerns back in 2007. That is why it was great to learn about Zarbee's natural children's cough syrup that can be used for kids starting at 12 months or 2 years of age for the nighttime version.  My kids are 5 and 8, but I will still be adding these products – beginning with the ones that we were gifted with at the event – to our medicine collection. It was also good to learn that Zarbee's has expanded their line to include natural adult coughing remedies for adults also. (My husband Reggie doesn't have the best reactions to normal cough medicines, so hopefully this one will work out for him.)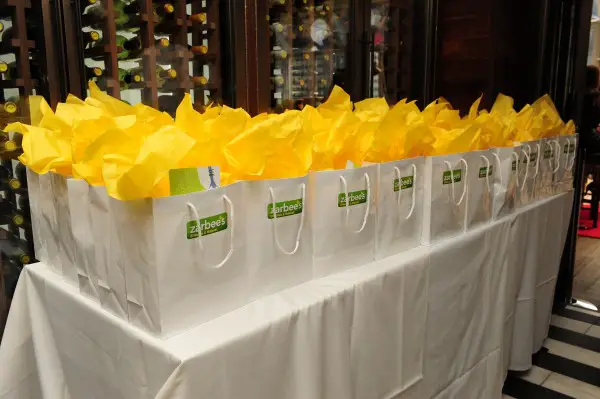 Just in case you like to read advice from celebrity moms, below are some of the tips that Kristin Davis (who recently adopted a daughter) shared at the lunch…
Kristin Davis's Healthy Tips for New Moms
Eat Right
Prepare healthy meals and snacks (like brown rice) when you have a few minutes so you can throw it in the refrigerator and have something healthy on hand when you get the chance to eat.
Go Natural
Rely on natural products you can trust, especially when you get sick.  You can't be at your best when you feel terrible!  I love Zarbee's because it's an all-natural product that helps with coughs and allergies without making me drowsy.
Make Time for Yourself
It is hectic being a mom so try to carve out some "me" time during the day – even just a minute to breathe and assess what you need so you can be at your best for your
In any event, definitely consider Zarbee's if you are looking for a safe, natural cough remedy for your family. I am certainly glad that I now know about it for my family.
{Post images courtesy of Zarbee's event coverage.}