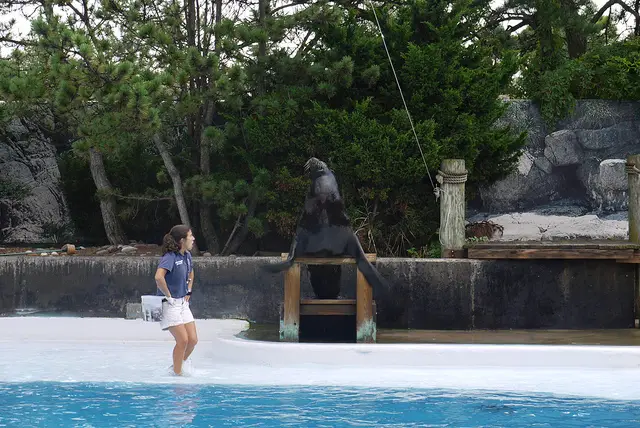 Last weekend, my family went to the New York Aquarium  (as "media") to review the new 1,500-square-foot exhibit called A-MAZE-ING Water that is there through September 9th. I will write about that tomorrow, but first I just have to share the part of the trip that was most memorable to me…the Sea Lion Celebration at the Aquatheater!
I was sitting in the front row with Sean while Reggie and Michael sat a few rows behind us. It was hot outside, but the show was so much fun that we didn't really mind.  The first sea lion to perform was Duke. Below is a snippet of his (great) performance:
I had never heard a sea lion sound that loud, but Duke was fun to watch. Then, it was time for the solo act of the star of the show…Osborne. It started off great. Osborne was kissing the trainers and dancing along with them. Since they were on the other side of the pool, I had my camera on zoom, so that I could capture everything. Osborne went into the water and the next thing that I knew, I had a camera full of sea lion flesh! I screamed, because I had no idea that he would come right up to the fence that I was sitting behind. It freaked me out and cracked the rest of my family up. (They teased me for the rest of the day.) Note to self: expect the sea lion to get up close and personal if I ever sit in the front row of a sea lion show!  You can see that part (kissing/dancing/sea lion flesh up close) on my
Facebook update
. After a quick recovery, I finished taping Osborne's performance…
(Note the nervous laughter and the "Don't come back over here." 🙂 )
Despite my little scare, it was great fun to see the sea lions perform and to hear about the various initiatives of the Wildlife Conservation Society (WCS). One even that was mentioned was the 2012 WCS Run for the Wild, a 5K run/walk in Brooklyn. The proceeds from this year's run are being dedicated to saving walruses and other wildlife. If you are a runner and have a heart for wildlife, then you might be interested in the Saturday, October 6th 5K Run that takes place at 8am or the Family Fun Run/Walk that takes place at 8:45am. You can learn more (or register) at wcsrunforthewild.org/nyaquarium.