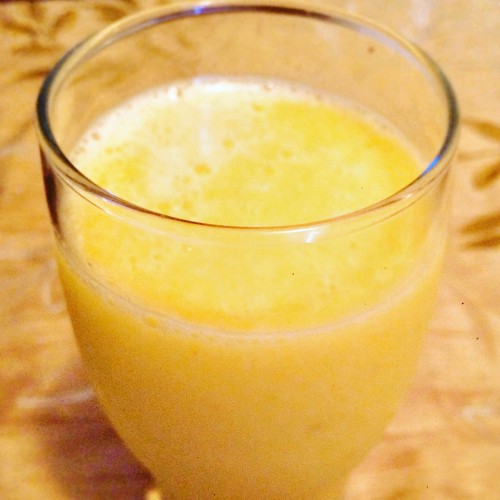 A Panera Bread location recently opened near my home in Forest Hills. While visiting there, I was inspired to create a copycat Panera mango smoothie recipe. Restaurants and shops are constantly popping up in my area, so that is nothing new. However, I have constantly heard friends rave about Panera's food and drinks. 
I had thoroughly enjoyed a baking event that I attended with one of their chefs last year.  After the event, I immediately went online to look at their menu to see if a visit would be worth my time.  After looking at the bakery and cafe menus, a trip is definitely in my near future.
While browsing around the Panera menu, I saw many things that I would buy – especially the baked goods since I only like to bake on special occasions.  However, there were several things on the menu that made me think, "Oh, that would be easy and less expensive to make at home." 
Their "Low-fat Mango Smoothie" falls in the latter category.  Right now, I'm obsessed with mangoes.  I have been having mango and orange juice smoothies for breakfast since Serena put smoothies in my head.  (I just blend together 1 cup of chopped mango, 1 cup of orange juice and 1 cup of ice until it reaches my desired consistency.
Mangoes are very plentiful and inexpensive during the summer, so it is less costly  to make my own mango smoothies at home.  (Right now, they are 99 cents per mango/50 cents per smoothie!)
Loving research the way that I do, I found this 2009 video of a Panera Bread representative making a low-fat strawberry smoothie:
(You can get the recipe on the abc7chicago.com site.)
Copycat Panera Mango Smoothie Recipe
I don't really care for strawberry smoothies though, so here's what I think would be included in their Low-fat Mango Smoothie…
Low-fat Mango Smoothie (à la Panera)
Yield: 1 -2 servings
Ingredients
1 cup of peeled, chopped mango
1 cup of  Stonyfield Farm organic, low-fat vanilla yogurt
1 cup of ice
Directions
1. Place the mango, ice and yogurt into the blender (in that order).
2. Put the top on the blender and mix the ingredients together for 10 – 15 seconds/until it reaches your desired consistency.
3. Pour the mixture in a cup and enjoy!
Recipe Notes
-This copycat Panera mango smoothie recipe actually makes (2) 1 cup servings, so it is enough to share with someone else.
-If you are lactose intolerant and/or just don't like the taste of milk, you can substitute orange juice for the yogurt to get another version of a refreshing mango smoothie. (I actually prefer the orange juice version!)
Related Posts:
Triple berry, blueberry and watermelon summer smoothie recipes
Bread Pairings Courtesy of Panera Bread
Chocolate Babka (Courtesy of Panera Bread's Tom Gumpel)

"Bread pudding is THE thing" – Tom Gumpel of Panera Bread