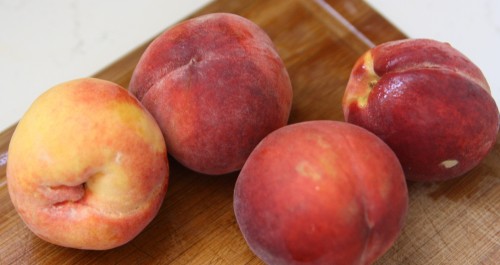 To celebrate the upcoming release of the new summer movie The Help I wanted to make something using traditional Southern flavors. I immediately thought of cooking with delicious and fragrant peaches, which can be enjoyed "as is" or used in pies or cobblers. Other options include canning, adding them to salads or even placing peaches into some entrees. For this recipe, I used peaches to make a simple, fresh jam that I paired with some fresh blueberries, mint and sugar. This recipe can also easily be modified by using your favorite fruit. Even without any preservatives, this jam should at least 6 months. (Although after a few bites of this tasty treat, I'm sure that finishing it off won't be a problem.)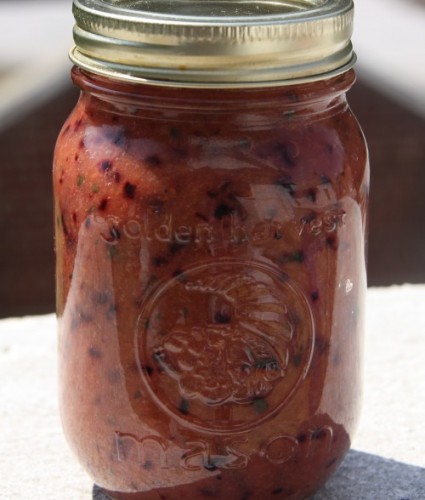 Peach Blueberry Jam
Yield: 1 medium-sized mason jar

Ingredients
1/2 cup water
6 peaches, cut up with skins
pint of blueberries
1 package Knox Gelatin or Pectin
2-3 sprigs fresh mint
½ cup brown sugar
freshly squeezed juice from 1 lemon
pinch of cinnamon
pinch of sea salt
Cooking Directions

1. Add water to a pot and let the water boil. While the water is cooking, cut up the peaches and blueberries. Add them to the pot along with the pectin, fresh mint and sugar.
2. Stir the fruit. Cover the pot and let the mixture cook on a low flame for approximately 10 minutes, stirring it periodically.
3. Turn off the flame. Mash the fruit mixture with a hand blender until everything is combined. Taste the jam. Add lemon juice, cinnamon and sea salt (to suit your personal taste) if desired.
4. Let the jam sit in the pot for a few minutes. Then, add the mixture into a mason jar. Tightly screw on the lid and flip the jar over for approximately 15 minutes. (When you hear a popping sound, the lid has sealed and the jam is secure.  Let the jam stay in the jar (at least) overnight before you consume it.
Recipe Notes
-Since neither preservatives nor a pressure sealer was used, this jam should only last up to 6 months.
-Pectin is used to set the jam and to give it a solid consistency. If your jam comes out too runny add some more pectin (there are low and no sugar varieties out there) to your jam mix.
-Adding the lemon juice to this recipe will prevent the peach jam from turning brown.
Related Posts:
Mango peach salsa "with a kick"
Blueberry Cobbler Recipe
Salad recipes: summer salad with mint peach dressing