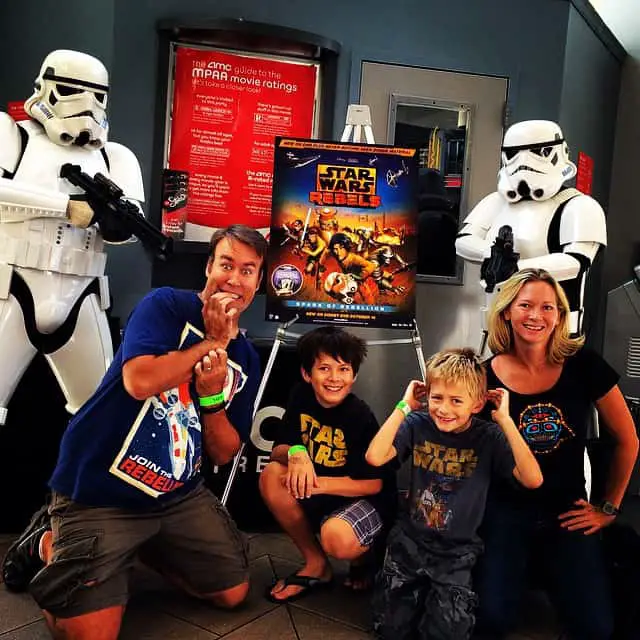 Credit: Marc & Lesley Thompson
This Star Wars Rebels review is via Geek in the City (Marc Thompson of mtvoices.com)
Today we got to see a sneak peek of "Star Wars Rebels". First of all I am 100% totally biased. I am a diehard lifelong Star Wars fan. I own light sabers, action figures , and a Jedi uniform that I wear from time to time. So as you read this review, keep in mind the source.
So if you're still reading this, you should know "Star Wars Rebels" is awesome!!! It is everything I had hoped it would be and more. It is familiar and yet fresh at the same time. The action, the humor, even the soundtrack is classic Star Wars. The story starts and you immediately become aware that this group of people have a history together, and we're jumping in right in the middle of one of their missions. Just like a "New Hope "or "Empire strikes Back" or "Return of the Jedi." However it feels new. The characters are new twists on old archetypes. Kanan is a hybrid of Han Solo and Luke Skywalker mixed together. Zeb is like a mix between Chewbacca and Boba fett. He's a cranky Alien, who deep down wants to do the right thing and is now my son David's favorite.
Ezra is the perfect character for kids to identify with. He's growing up in a harsh world. A world where everyone has to look out for themselves. A world where everyone is being controlled by fear. As fate would have it, or perhaps as the Force would have it, Ezra runs into Kanaan and his crew. He ends up learning some powerful lessons about selflessness and sacrifice from this new group of rebels. It's a great message for kids to learn, and it's packaged in a fun action adventure cartoon.
Your kids, and Star Wars fans alike, are going to love this new series. I left the theater thinking this might even be better than the "Clone wars" series, which I really loved. "Star Wars Rebels" is available now on the Disney XD app, and will premiere on Disney XD on October 3rd at 9 PM.