I wrote a bit about meeting Bobby Flay at the Hellmann's Real Holiday Helpings event back on this post. Below is a picture of us in "our" kitchen: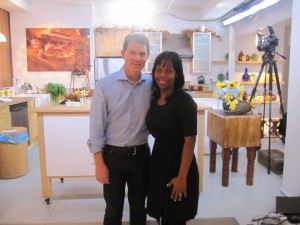 I just wanted to follow up by sharing some of the helpful things which he said:
1. Kid tips: In general, don't give them separate meals/a choice of a meal different from what you are eating. Rather, expose them to a variety of foods. Have them try different things and keep re-introducing the same foods. Remember that tastes change over time. As an example, Bobby shared how his 13 year old daughter initially hated strawberries, but now she loves them.
2. Prioritize your cooking. It's important to think about how much time various dishes/sauces/etc. will take to prepare. Plan accordingly.
3. Consider having a themed Thanksgiving. Bobby shared that he serves 40 -50 people each year at his home for Thanksgiving. He always serves family style but each year, he does variations. He has done Texas and New Orleans themed days in the past. This year, his theme will be New England. As such, he will include blueberries, clams and oysters (traditional New England foods) on his menu in addition to turkey and other tradition Thanksgiving foods. He shared that he loves Thanksgiving. (I would love if too if I were his wife – he does the cooking!)

4. Part of hosting is organizing. When people ask if they can bring something, be specific in your directions so that you won't have a whole lot of one thing. Bobby said that he cooks the meal, but he lets guests bring pastries or wine. "I'm not/don't have the patience to be a pastry chef," he shared. Personally, I think that it's great in cooking (as in life!) to play to your strengths. (My current strength is to bring one side dish.) It seems like cooking runs in Bobby's family though. His sister-in-law was cooking/working with him while he was doing the presentation. (How can I get adopted into THAT family – at least for Thanksgiving?)
5. Turkey (Bobby style): I'm going to give you Bobby Flay's turkey cooking instructions. Take note, because he makes two 30 pound turkeys each Thanksgiving. First of all, he does not brine his turkey. Rather, he: takes it; rinses and cleans it; pats it dry; seasons it with salt and pepper; puts it in the roasting pan with carrots, onions, celery, chicken stock and butter; roasts it at 350 degrees; bastes it every 20 minutes with the chicken stock from in the pan; glazes it towards the last half hour; and lets it rest for one hour (to give the juices time to cool down) before serving it.
Lastly, I'm going to give you Bobby Flays #1 "secret" for serving a successful Thanksgiving dinner…chicken stock. That's right. He says to have a lot of hot chicken stock to help heat up food as you serve it. He claims that it will "save the day".
So for all of you who are actually going to host Thanksgiving at your homes this year, I hope that these tips help.