Last Tuesday, I attended the Toy Fair. Stepping into the Javits Convention Center was like walking into Santa's workshop – there were toys everywhere! Fortunately, I had set up several appointments for the day. (It would have been WAY too overwhelming for me to just wander from booth to booth.) Below are my top ten favorite picks for kids five and under:
1. Color Shifters Blaster
This product works with the Hot Wheels Color Shifters cars. (They're so neat – they change colors when you dip them in water.) This set (which comes with 1 color shifters car) also comes with a spray gun, a self-contained transformation unit, customization tanks and a car launcher.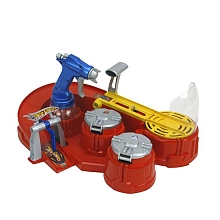 2. Etch A Sketch Freestyle
This updated version of the classic Etch A Sketch features a controller device that swivels 360 degrees and allows the user to draw lines, loops, curves, and curlicues. (It's amazing what people can draw using Etch a Sketches. See the picture below that was created with an original one.)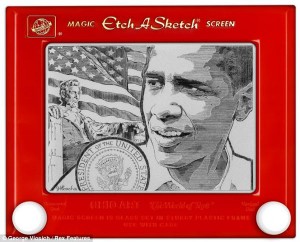 3. Manny's Motorcycle
This motorcycle based on the Handy Manny series is so cool! It comes with a poseable Manny. What I especially like about it is that there are 15+ fix-it jobs to keep the little ones busy. The motorcycle also comes with four additional parts to customize the bike.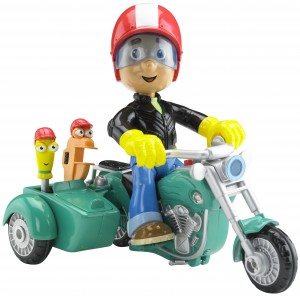 4. My Natural Toys
This is a new line of all-natural plush toys that are available at Target. They are created by Hosung, the makers of miYim organic toys. However, since they're not certified organic, they are sold at a much lower price point. (They range from $4.99 to $14.99.) They're still really soft, environmentally friendly…and charming!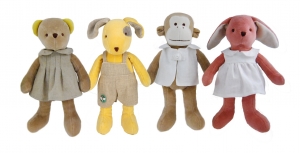 5. Princess Tiana Doll
This Mattel doll is based on Disney's highly anticipated The Princess and the Frog movie. Tiana is Disney's first African-American princess. (She is also Disney's first American princess.)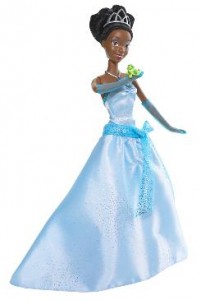 6. Smart Fit Park
This upcoming Fisher Price game reminds me a little of the Active Life: Outdoor Challenge Wii game. I like that this "plug & play" learning mat helps kids to stay physically active while learning. (Kids can walk, run, jump and stomp while playing and learning letters, numbers, shapes, colors and more.)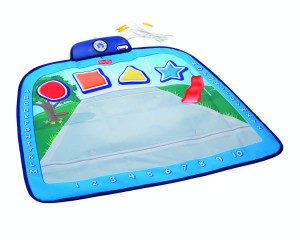 7. Spin Me A Rainbow Puzzle Game
This eeBoo game helps young kids with colors, shapes and spelling the names of colors. The goal of the game is to be the first to gather all the shapes. It's a simple game, but simple is sometimes best. I also love the way that it's beautifully designed.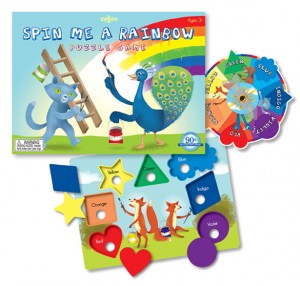 8. Strawberry Shortcake Sweet Surprise Strawberry Doll
This is a nostalgic pick. I grew up loving Strawberry Shortcake. I think that little girls will love playing with her long, red hair and makeup. Of course, the Hasbro doll also features the classic strawberry scent.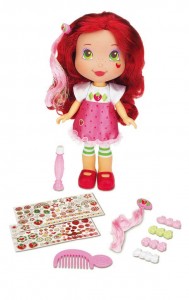 9. UNO MOO!™ Preschool Game
This is a smart, simplified UNO® game for preschoolers. It comes with 28 cute farm animal figures that pack neatly into a barn. The object of the game is to be the first to get rid of all your barnyard animals by matching colors and figures to get your animals in the barn. When the players are down to one figure – they yell "UNO Moo"! This Mattel game will be available in the fall.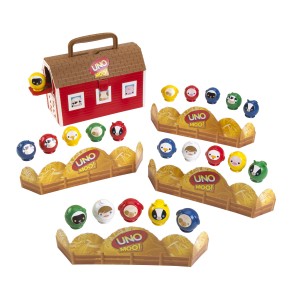 And
10. Zambi, the Baby Elephant
In addition to being adorable, this Hasbro special edition FURREAL FRIENDS plush elephant is for a great cause. It is a part of PROJECT ZAMBI, a global initiative dedicated to raising awareness and supporting programs that help care for African children orphaned as a result of the AIDS epidemic.
Like other FurReal animals, the elephant is super soft and interactive. He plays, blows kisses, raises his trunk, trumpets his elephant call, and holds your finger with his trunk (it has a sensor on it). The ears and feet are also covered in a special fabric pattern designed by boys and girls from Zambia. Retailing for $49.99, the elephant is available from Hasbro in the fall.