Valentine's Day is an ideal time to show love. Whether you are getting gifts for romantic partners or simply showing friends some love, there is something for everyone on your list. To help, I have gathered 22 Valentine's day gifts from Black-owned brands.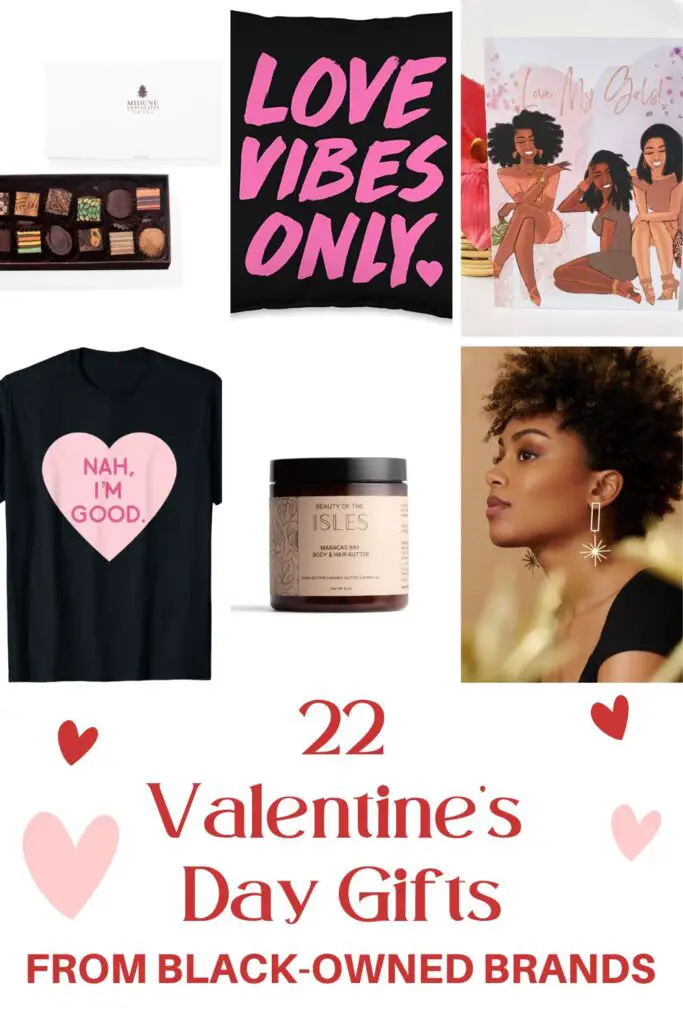 There are a couple of things that I love about compiling gift-idea posts. First of all, it's the thing that you (MitC readers) request the most after food and recipe content. My friends and family also read my posts to get hints regarding what to get me for my special days. (I ended up with two of the same luxurious bath products last year as a result. I'm not complaining though because I LOVE the smell!)
Valentine's Day Gifts From Black-Owned Brands
Although I include a variety of brands from various cultures in gift guides throughout the year, I think that it's good to intentionally support Black-owned businesses at times too.
While researching, I'm often surprised at how many businesses present themselves as Black-owned on marketplaces when they really are not. [While I think that anyone can sell anything (for instance, I have a whole Hanukkah collection of merch), I think that it is wrong to pretend to be a member of another culture.]
On a positive note, all of these hand-picked gifts from Black-owned brands are also affordable. Each gift idea is under $50 so you can even get multiple gifts. Happy shopping!
Sweet Treats for Food Lovers
1. Midunu's handcrafted truffles and chocolates are inspired by Africa and use Ghanaian cocoa. Try their hand-crafted chocolate truffles ($30+).
2. The health benefits of sea moss have been well documented. Several of my friends and family members love it. If you are looking for quality sea moss, The Transformation Factory has a variety including their strawberry sea moss gel ($35.99).
3. Edible Couture is a boutique bakery that specializes in small sweet treats. Their indulgent cupcakes – with regular and vegan options – are noteworthy. The red velvet ones are perfect for Valentine's Day. (Vegan cupcakes are $5 while non-vegan ones are $4.)
4. Chocolate chip cookies, like the ones from Daddy's Dough Cookies, are great gifts for dessert lovers. The family-owned and operated company uses its homemade dough to make an array of cookies. (They are $3 with a minimum $18 order for delivery).
5. The Painted Pretzel (which secured a deal with Mark Cuban on "Shark Tank") offers a wonderful assortment of specialty gourmet pretzels. The "Party Starter" ($36.95+) includes five different chocolate-covered pretzel options.
6. Founded by two sisters impacted by the government shutdown, The Furlough Cheesecake company produces delicious cheesecakes. You can get the Strawberry Affair cheesecake for $39.99.
7. I love custom pillows so I made a mini Valentine's Day collection for my OFT brand. This world can definitely use more love vibes only ($19.99/each).

8. The Frѐres Branchiaux Candle Co. was created by three brothers. Their hand-poured vegan-scented candles are gifts that I enjoy sharing with others. The "Love Jones" candle ($25+) would make the perfect Valentine's Day gift.
Jewelry
9. Earrings are popular gifts because you don't have to figure out what size to choose. Shamika of Saharas Essentials offers some gorgeous, unique options – including these brass star earrings ($44).
10. Vanessa of Adornessjewelry creates some beautiful handmade jewelry. Some of her upcycled jewelry uses recycled leather. My favorite is the blue and golden leather triangle earrings ($27.17).
11. Joslyn Allen designs a range of jewelry for her Ubuntu brand. A percentage of every sale of the handmade jewelry gets donated to an orphanage in Haiti. Her birthstone natural gemstone necklaces ($42) are especially appealing.
Love-Themed Shirts
12.-14. I find it so funny that the bestselling Valentine's Day shirts for my OFT brand are actual alternative or anti-Valentine's Day shirts. The "Nah, I'm Good" ($18.99), "I Love Running" ($19.99) and "I Love My Roots" ($18.99) shirts are just a sampling.
Special Paper Goods
15. CRWND Illustrations by Keliah Smith offers a lovely assortment of cards and stationery ($8+). I appreciate that their cards acknowledge various types of love including self, romantic and friendship.
16. NOTIQ is known for its luxury planners. I really like their Affirmation Cards product though. The box of 30 affirmation cards is only $22.
17. Ivory Paper Co. offers several highly-rated notebooks ($27.95+). They come in bullet or lined sheet options.
Luxurious Spa Gifts
18. Fresh Seed Glow has a variety of excellent natural, plant-based skincare items. Their hydrating Rose-Infused Body Scrub ($25) is outstanding.
19. Beauty of the Isles makes my all-time favorite body butter – Maracas Bay Body & Hair Butter ($30). It keeps my entire body (including my feet) so soft.
20. Skincare products with goat milk have been popular for a while. That is why I love this "Black Girl Magic" gift set ($55) from Belna Candle Company. Goat milk soap and lotion are included in the package along with one of their hand-poured soy wax candles.
Traditional Gifts (Wine and Flowers)
21. High-quality, affordable wines are festive options. The McBride Sisters Collection Black Girl Magic Wines offer fine options that recipients will appreciate. Individual bottles of wine start at $19.99.
22. You can do a search on Google in order to find local Black-owned flower shops that will deliver traditional flowers at various price points. As an alternative, consider gifting a plant. They last longer and The Plant Project Shop ships plants nationwide. (Many of their plants are under $50.)

If you found this Valentine's Day gifts from Black-owned brands post helpful, please share it. Thanks!
You Might Also Like
{Updated. Numbers 2 and 10 are new picks as the old ones have gone out of business. Originally posted on 1/28/2022.}