Creating vision boards is such a fun activity. I make one at the start of most years and it's always interesting to see which aspects become reality. That is why I am sharing some of my vision board examples.
I'm not a big believer in the "law of attraction" but I do believe that there is power in keeping what you want in focus. A vision board is simply a board covered with a collage of words and pictures that embody your hopes, goals, and dreams. They can be great visual reminders to motivate yourself to do what is necessary in order to make your dreams a reality.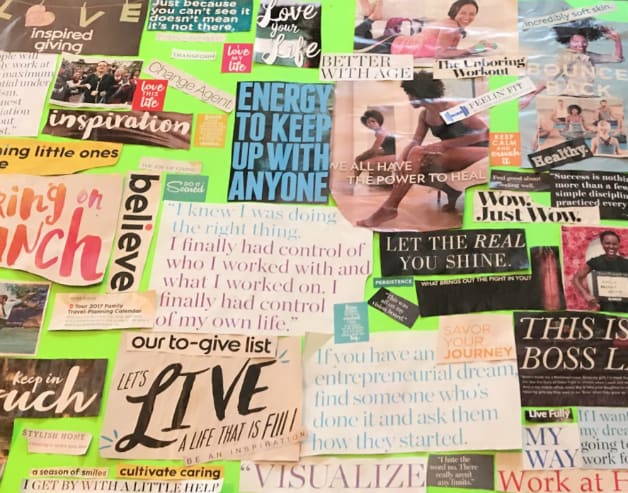 Vision boards aren't magical genies. Although sometimes items on the board appear in your life in unexplainable ways, most of the time the boards work only as hard as you do to accomplish what is on them! Also, note that just because you put something on your board for the year, it doesn't necessarily mean that it's going to happen that year.
Sometimes, I have completely forgotten random things that I had placed on old vision boards until they came true. For instance, I had forgotten that I placed an image of Paris on an old vision board until I took one of my favorite trips ever – a trip to Paris with my mom – years later. As soon as we were in Paris, I remembered that I had hoped for this experience.
I have created vision boards for many years and have hosted several vision board parties. It's so much fun to gather a group of girlfriends and "dreamscape" together. Even people who don't normally like "artsy" activities (I don't!) end up enjoying the time.
It's a chance to get back in touch with our inner Kindergarten selves as we rip/cut/tear pictures and images in order to glue them on our boards. Since I appreciate vision boards so much, I want to share some ideas on how you can create your own boards – either physical ones or digital ones.
Vision Board Ideas
I prefer physical vision boards. I enjoy clipping words and images from magazines and I like to hang the completed board up in my personal bathroom so that I can look at each day. Basically, you just collect images that reflect what you want for the upcoming year.
The images can be literal or symbolic. They don't even have to be pictures of objects – they can be words or phrases that resonate with you. Vision boards also don't have to be created at a specific time like the start of the year.
For instance, I haven't created my board for 2018 yet. I may not even create one this year because last year's board still motivates me. (I have some unfinished visions from that board that I still want to fulfill this year.)
Vision Board Supplies
For materials, I normally use posterboard although some people use cork board or canvases for durability. A stack of magazines, scissors, and glue are the only other things that you truly need.
When I do vision board parties, I will sometimes bring additional items like glitter and markers too. Once I have found all of the images that I want to place on my board, I cut them out and place them all on the board first to make sure that they all fit/rearrange them if necessary. Then, I paste the images. That's it!
Vision Board Examples
Below are some examples of a few vision boards that I have created over the years:
2017
2015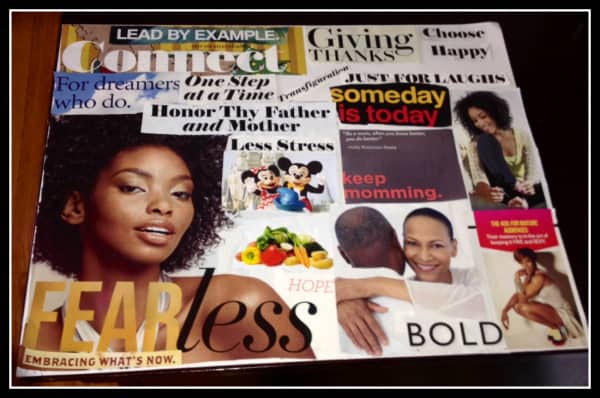 2011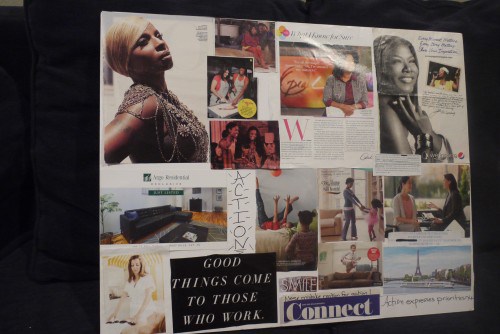 Online Vision Boards
If you prefer online vision boards, there are digital options with many vision board examples.
Vision Board App: VISUAPP is a highly recommended app that allows you to create a vision board to meditate on. It's available for both iPhone and Android users.
DIY: You can also just create your own digital board. One year, I created a private Pinterest board where I put online images which would have been on a personal vision board. Another option is to make a digital vision board with templates from an online photo editor like PicMonkey or Canva. (PicMonkey has a great post regarding the topic – How to Make a Vision Board.)
Vision Board Workshop
Although I enjoy hosting vision board parties, I don't do workshops. (Much like cooking, I either host vision board gatherings free for loved ones or for a significant financial amount from corporate sponsors.)
Lucinda Cross, one of my Facebook online colleagues, specializes in vision board workshops though. Her life story is very inspirational and she has been featured in online, print, and television media. You can check out her products, services, and vision board party offerings at lucindacross.com.