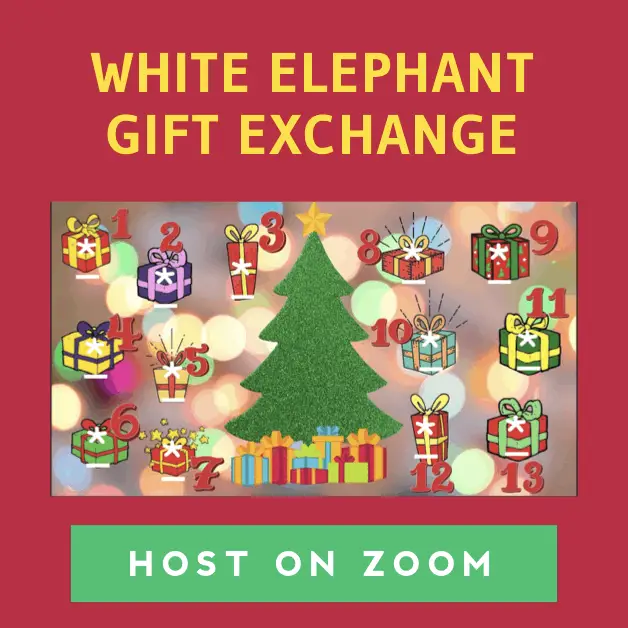 This past weekend, the Youth and Family ministry of our church hosted our annual Christmas party. Since the white elephant gift exchange is always so much fun, we figured out how to host a virtual white elephant gift exchange on Zoom. It ended up being a blast.

There are a couple of main ways to host a white elephant gift exchange online. The super-easy way to host a virtual exchange is to use a service like White Elephant Online. You can host a "family and friends" exchange with up to 25 gifts for FREE. Larger and corporate exchanges are $99 per game.
We didn't do the easy virtual white elephant gift exchange though. For one thing, we ended up with 35+ gifts in the exchange. Most importantly though, we didn't think that all of the families would want to register with the White Elephant Online site (which I have no affiliation with) in order to play the game.
Instead, we used the virtual white elephant slide template found on teambuilding's "Virtual White Elephant Gift Exchange Ideas in 2020" post. We had more than 25 gifts included in the slide so we simply added an additional page to the template.
Before The Gift Exchange…
After scheduling the party in Zoom, I sent out a text invitation.
* I asked participants to text (or email) me the gifts that their families would be including in the gift exchange. A suggested gift spending limit was included in the text.

*Once they texted me their gifts, I sent them a corresponding number(s) so that they wouldn't pick their own gifts. (Their picking order number was chosen randomly on the day of the game. We used random.org list randomizer to quickly and easily do that.)
*I included the gifts in the white elephant gift exchange slide before the party.
White Elephant Gift Exchange Rules
Everyone does their white elephant exchange a little differently. We basically followed the rules found in the slide. We did make a couple of changes so that the game wouldn't go too long. (Everyone is already Zoomed out!)

1. We limited the number of times that each gift could be stolen to 2 instead of 3.
2. If someone's gift was stolen, they couldn't steal from someone else. Rather, they needed to pick from the unopened gifts.
*I read that some people let the person who gets the number 1 go again at the very end. One would then be the best number to pick instead of the worst. I wanted to play that way but my (wise) husband nixed that idea since we don't normally play that way.  😊 
Lessons Learned
The first time that you do something is a learning experience. Although the game went really well overall, I would tweak a few things if we do another white elephant gift exchange on Zoom.
1. I will have three people working on the gift exchange. One will do the actual game. The second will place what gifts are being chosen by the participants in the chat (so that participants can know if they want to "steal"). The third will keep a written list of what has been chosen and stolen. We had two people but I believe that a third dedicated person will help the game to run even more smoothly.

2. I will get everyone's email and mailing address at the beginning when they are submitting their gifts. That way, I won't need to do double work at the end to connect the recipients and gift-givers. (Once the game is over, players send their gifts directly to the winners. No one knows the gift givers unless they choose to tell/hand-delivere the gift.)
3. I will have a firm gift submission deadline. In reality, I probably won't. I should do it so that I'm not scrambling the night before the event. I know how slammed parents are in December AND it is for the kids though…
White elephant gift exchanges are a lot of fun. There is always a lot of laughter. This year was different but just as enjoyable. It took a little bit more (okay, a lot bit more) work to make the virtual gift exchange successful but the smiles and laughter definitely made it worth the effort!
You Might Also Like