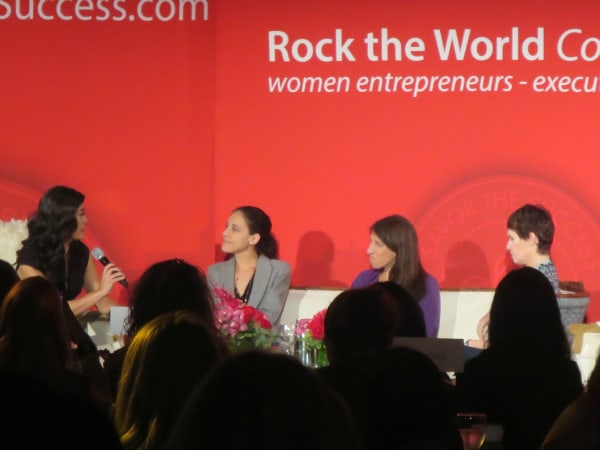 The next panel at Rock the World 2015 was "Women: The Money and Mindset". Moderated by Angela Jia Kim, the panelists were Kelly Hoey, a speaker and strategist, Amanda Steinberg, founder of Daily Worth and Jessica Peltz of kbs+ Ventures. I am finishing up the book Mindset: The New Psychology of Success  by Carol Dweck so I was interested to hear whether the panelists shared a fixed or growth mindset towards women and money. Below are some of the main takeaways:
Do women think small when it comes to money?
-Amanda Steinberg noted that the "thinking small" story is the one that experts like to tell but it's not necessarily how women think.
-Jessica Peltz mentioned that thinking small has to do with how you approach your overarching business plan. If you are going to pitch a potential investor and say that you need a certain amount, then it's about having a plan. You need an airtight one (i.e. stating that this is what it is going to cost to get me to the next goal/milestone).  She encouraged women to surround ourselves with the right people who are going to help us understand how to have a tangible action plan. That will make investors more comfortable with funding the business. Don't think small but rationally.
(Angela Jia Kim reiterated that clarity is key when it comes to knowing what you need to get to the next level.)
-Kelly Hoey shared that 70% of the wealth in this country is going to be in the hands of women (from earning and inheriting it) within the next decade. She noted that we have the financial power now. It's just what we decide to do with it. If we want other women to think bigger, then we need to support them. If you want to have a bigger business, then support other women-owned businesses instead of moaning about women businesses not being funded or being overlooked. We hold the power in our pocketbooks. If you want more women on corporate boards, look at your portfolio and the companies that you support. Change your spending habits.
What can we do to shift our own money mindset for our own businesses?
(Angela Jia Kim noted that she was on a previous panel when Victoria Pettibone said that she typically sees women ask for around $500K when they are trying to raise money and that men will ask for over a million. The question remains, "How can we start shifting that dialogue?")
-Amanda  Steinberg's mom was a computer programmer who intentionally put Amanda in front of a computer when she was young. Amanda grew up playing a lot of video games and developed a game based outlook on money/"collecting gold coins". You win some, lose some, die, regenerate and then start over again. Money doesn't have emotional meaning tied to it for her. She encouraged women to let go of any guilt and shame surrounding money (i.e. debt). Rather, learn from the financial past and stop taking the meaning of money so seriously.  When Angela asked Amanda how is it that she does not tie emotions to money, Amanda responded that she didn't feel strongly about finding the answer to that question. Instead, she advised us to sit with that question and figure out how to separate ourselves from those emotions so that they don't drive us to do things that we know are not constructive. Don't let feelings drive your decision making. 
-Jessica Peltz also agreed that money does not have to be emotional. It's business – especially when it comes to asking for a raise or raising funds for your own business. If you earned it, say it. Ask with a reason (i.e. asking for market salary, sharing what you have accomplished and what deserve and expect to be paid). Make asking for a raise an objective business conversation. If your employer wants to keep you as talent, then they will give you what you deserve if you present your case with conviction and confidence. Who you ask and how you ask are both important.
How do entrepreneurs articulate prices of their services in a way that is powerful and confident?
-Jessica Peltz said that  a lot of it comes from showing that you understand your market and competition. Know what your competitors are charging and going rates. If you have a service that people want, then they will pay for it.
(Angela Jia Kim added that you need to find people who have money for your products or services. When she noticed that most of her paying clients lived in the West Village, she opened her shop in that location.)
-Kelly Hoey's attitude towards money is "What is the worst thing that could happen?" If you can live with the worst case scenario, then it frees you up to take risks. (For many entrepreneurs the thought of having to go get a job again is the worst case scenario…although one person did say that she ended up with a $90,000 tax bill!)
How can women overcome the barrier of not knowing and owning their value?
-Kelly Hoey gave three tips. 1. Build your expertise. (What are you the expert in?) 2. Build your network. Forget the hero's journey. No one does it alone. The hero always has an army. Who is your army? Who is supporting you? 3. Build your bank account. Build up funds so that you can take risks.
What are some creative financing options for women entrepreneurs?
(Angela Jia Kim recalled how she shifted her credit cards around to 0% interest ones in the early days of her business. She had a plan regarding how to pay off her cards and she did.)
-Amanda Steinberg urged everyone to read The Lean Startup by Eric Ries to understand the concept of the minimum viable product that you need to prove that people actually want your product. (Don't launch a business without reading it.) Amanda was a computer programmer and consultant to many companies for 10 years before launching Daily Worth. She is a strong advocate of starting small because she saw how it killed businesses when their founders thought that they needed a lot of "stuff" to start. Amanda took on a part-time job when she first launched each of her new businesses in order to have income coming in from somewhere else.
-Jessica Peltz mentioned that there are a lot of resources for capital available now including self-funding and tapping into family and friends. She also said don't underestimate the power of grants. There are many different ones that you can apply for based on entrepreneurship, your field, affiliations and such. Bank loans and angel investors can also be helpful options.
How do you look for an angel investor?
-Jessica Peltz noted that angel investors are typically high net worth individuals who fund startups out of their own finances and shared three ways to connect with them. 1. Investors are vocal so find them on social media, angel syndicates and AngelList. 2. Understand what motivates them and what they are interested in. They tend to want to invest in things that they feel passionately about and want to feel connected to the entrepreneur and their business. They also want to invest in businesses that they feel they can add a lot of value to with their network, expertise and/or passion. Taking time to get to know these things show that you have done your due diligence. 3. Look for opportunities to pitch.
-Kelly Hoey noted that we focus so much on the few women founders who get angel investors or venture capital funding when only 1%-3% of all early stage companies get those types of funding. Many businesses get off the ground in other ways (i.e. through revenue, sales, savings and crowdfunding pre-sales). She noted that crowdfunding isn't about strangers giving you money. Rather, it's successful when your network supports you. Kelly also encouraged the audience to celebrate and focus on the businesses that are growing based on revenue because it's an accomplishment not to need to take money from investors. When you take money from investors, they are often going to try to tell you how to run your business. Think about what you really need in order to grow your business and be strategic and methodical about it.
-Jessica Peltz ended the session with the reminder that you control whose money you take. That is why you should partner with investors whose feedback you want to hear and whom you think will be helpful for your business. The more of your company that you give away, the less control you have so choose partners whom you think will be productive, supportive and helpful to you as the CEO of your business.