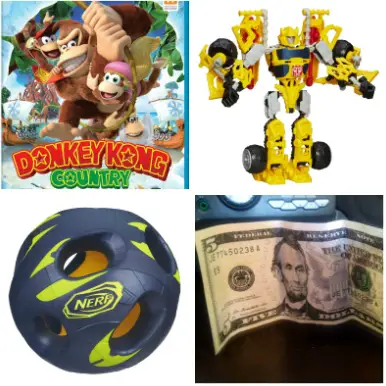 Sean's birthday party went really well. He was very happy with his birthday presents so I want to share 7 of the best birthday gift ideas for 7-year-old boys.

There are different schools of thought regarding whether or not to open presents at kids' parties. I don't think that there is a "right" answer, but we wait until our kids get home to open them. As I told Sean, "Focus on your friends' PRESENCE, not the presents at the party."
Fortunately for Sean, he also received some cool presents this year. As such, below are 7 coolest gift ideas for 7-year-old boys:
Birthday Gift Ideas for 7-Year-Old Boys
1. Scooter
We bought him a Razor kick scooter
. Razor had sent me The Spark 2.0 for holiday review. It was too "old" for Sean though, so I gave it to a Mom in the City reader instead. Also, don't forget to get a helmet.

Help me out here…am I the only parent who thinks that kids should wear helmets when riding their scooters? I haven't seen any of the kids around here – from the youngest to the oldest – wearing helmets while riding their scooters. Do you just reserve the helmets for bike riding?

2. Gift cards
Barnes & Noble, Toys R Us and Target are all great options.

3. Books
As I mentioned in the How to Raise Boys Who Love to Read post, it is important to surround kids with books that they actually want to read. A couple of weeks before Sean's birthday, our family visited the home of some friends and they showed the boys a Michael Jackson book, People Tribute: Remembering Michael 1958-2009.

Sean loves Michael Jackson and asked if he could borrow the book…so another friend bought it for him for his birthday. (His commentary on seeing the different faces of Michael Jackson over the years has been very interesting…)
4. Video Games
Sean had asked for the Donkey Kong Country Tropical Freeze game. It came out the day before his birthday, so I was able to buy it just in the nick of time.
Mom in the City sponsors had also recently sent The LEGO Movie Videogame and Disney INFINITY Sorcerer's Apprentice Mickey, so I gave those to both Sean and his brother Michael.
5. Toys that they need to put together themselves
While video games are fun, I also like for the kids to have non-electronic games. That is why I was pleased when one of Sean's friends gave him a cool little Transformers Construct-Bots set.
Another friend brought him a Marvel Super Hero Mashers
at my request. I had received the Dr. Doom figure at a brand event earlier in the week and Sean wanted some different figures to "mash-up".

While I still like the concept, my "particular" child was not pleased that the manufacturer had the Thor figure holding his hammer the wrong way(?!) Oh, well…I'm decorating Michael and Sean's new room with an Avengers theme, so at least Thor makes a decoration piece.

6. Sports Equipment
There are so many balls, bats and such in our home. Spring is right around the corner, so sports gifts are always appreciated. I had received a Nerf Sports Bash Ball at a brand event earlier in the week, so I gave it to Sean and Michael.
7. Money
If all else fails, stick a bill in a card. Kids are more than happy to have some spending cash of their own. It's so funny how the "possibilities are still endless" in their 7-year old minds regarding what can be obtained with a $5, $10 or $20 bill!
While I am suggesting these gifts, my biggest tip is to ask the person who is throwing the party. While these are general things that many 7-year old boys enjoy, each kid is an individual. Shop accordingly.
If you found this post helpful, please share it. In addition, consider signing up for my weekly email newsletter so that you don't miss future updates. Thanks!
You Might Also Like:
{Post images courtesy of respective sites, including my Amazon.com affiliate partner}