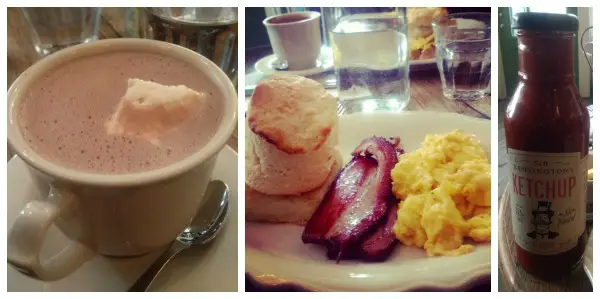 I have wanted to visit Peels in NYC's Bowery area since July. I tasted some of their biscuits at a blogging event where chef Ginger Pierce shared their buttermilk biscuits recipe. I finally made it down to Peels this past Monday…and I'm so happy that I did!
I met up with my friend Tene who was visiting from Los Angeles and we had a late breakfast. Tene was drinking their hot chocolate with homemade marshmallows when I came in. I wasn't even thinking about ordering hot chocolate until then. It was so good though…perfect for a chilly morning.
I knew that I wanted one of the biscuits, so I ordered mine with bacon and scrambled eggs. It also came with a hash brown type square. Everything was wonderfully made (not too greasy) and I liked that the bacon was English-style (more like ham than typical American bacon).
In addition to the food, I liked that the wait staff was helpful, but not overly attentive. Tene and I ate, drank, laughed and talked for a couple of hours. It was the perfect leisurely breakfast. Now, I want to go back for lunch…and try those biscuits with some fried chicken… 🙂
Peels NYC
325 Bowery
New York, NY 10003
(646) 602-7015