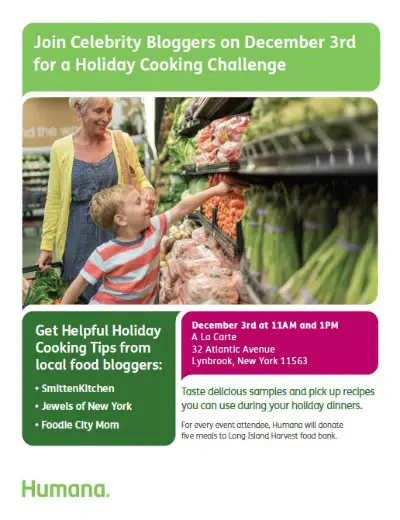 My comfort zone in regards to trying new business things is pretty wide, but yesterday I participated in a cooking event that fell outside of that zone. I'm glad that I did it anyway and I want to share the two questions that help me to decide whether or not to try new opportunities.
First, let me explain WHY it fell outside of my comfort zone. When I was initially contacted to participate in the Humana (a health and well-being company) event, it was going to be a healthy holiday recipes cook-off involving some of the top food bloggers in the NYC area. The two main thing that caused me to pause was that 1.) I didn't want to compete against any of my friends and 2.) Cooking live is very different than cooking with and for family and friends!
My decision was to DO IT ANYWAY.
These were the two questions that helped me to make this decision:
1.) What was the WORST that could happen? I could lose. Life would still go on and I would still get paid for participating. Also, I would be able to help benefit a food-related charity. (Humana donated $30,000 to Island Harvest at the event.)
2.) What was the BEST that could happen? I could meet some wonderful new food bloggers, have a great experience, learn some new things and do one of the things that I enjoy the most – connect with a group of people at a more intimate level. (Oh yes, winning would be great too!)
I'm glad that I did it. I had a blast. It ended up not being a competition at all. That worked out perfectly, because the other two bloggers were Deb Perelman of Smitten Kitchen and Diana Yen of Jewels of New York. As I joked on Facebook, they "would have wiped the floor with me" in a real healthy food competition. I'm pretty confident that I could hold my own in a southern/comfort food competition with (almost) anyone though :-).
Besides being amazing cooks, Deb and Diana were lovely people. We had fun chatting and comparing notes on what we liked to cook, different techniques and such in between our various demos. Most of all, I appreciated being able to interact with people who actually made and ate my food. The caterer Anthony Dagostino of Moriches Caterers (who made the samples of our dishes for the audience) was so sweet. He's Italian and likes a lot of garlic, so we joked that we would each add another clove of garlic to my avocado hummus recipe if it was just for us. He also said that I made him a believer that you could make sweet potato pie with half the sugar, butter and milk because my pie was so good. It's one thing for friends and family to enjoy the things that you prepare. That's the most important thing to me. However, it's like icing on the cake to know that your directions are easy to follow and that complete strangers can get delicious results with your recipes too!
I write this to encourage you to try things that might fall out of your personal comfort zone – whether it is life or business related. What is the worst that could happen? Could you live with that? If so, then go for it! You never know…the BEST (or even better than what you can conceive of as "best") might very well happen!