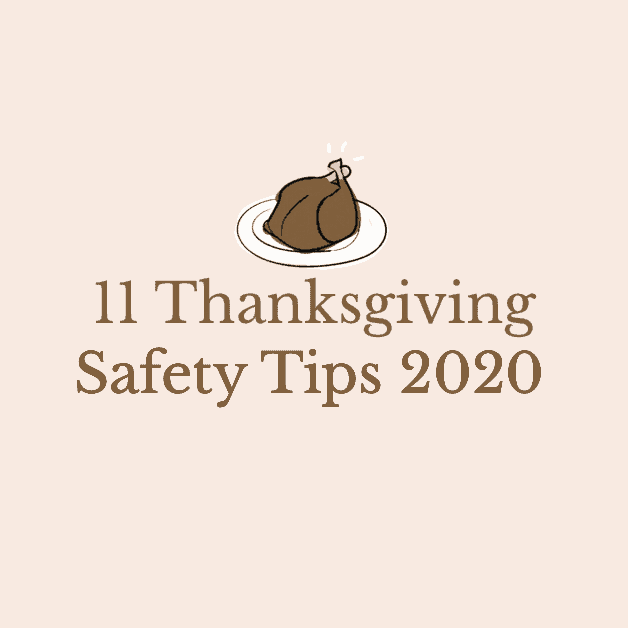 Thanksgiving is going to be different this year since we're still impacted by the COVID-19 pandemic. The CDC has provided some Thanksgiving safety tips so that we can still have an enjoyable Thanksgiving.

I also want to share some overall Thanksgiving safety tips that I learned from my good friends at Underwriters Laboratories, a global independent safety science company.
Thanksgiving Safety Tips
Safety Tips for the Multi-Tasking Master Chef
1. Stay in the kitchen while food is cooking. Most fires in the kitchen occur because food is left unattended. If you must leave the kitchen briefly, carry an oven mitt with you as a reminder that something is cooking.

2. Keep the stove free of clutter. Don't overload a stovetop with too many pots and pans. Trying to cook all dishes at once could cause grease to accidentally spill onto a stovetop and cause a fire. Only cook with as many pots and pans as there are burners.
3. Do not try to hold your child in one arm while cooking with the other. Holding a child while cooking is an invitation for a burn. It's best, if possible, to keep your child out of the kitchen altogether while you're cooking. Keep them occupied in another room by having them do their homework or offer them allowance if they do their chores outside of the kitchen.
4. Never wear loose fitting clothing when cooking. Long, open sleeves could ignite and catch fire from a gas flame or a hot burner. Wear short, close-fitting, or tightly rolled sleeves when cooking. If you have long hair, be sure to tie it back.
Thanksgiving Safety Tips for the Cautious Chef
5. Keep smoke alarms connected while cooking. Smoke alarms can save lives. Make sure smoke alarms are installed and working.
6. Keep a fire extinguisher in the kitchen in case of emergency and know how to use it. Make sure the fire extinguisher is rated for grease fires and electrical fires and read the directions carefully. The acronym P.A.S.S. can help make sure you use it properly.

o Pull the pin; Aim the spray nozzle low at the base of the fire; Squeeze the nozzle to spray the contents; Sweep back and forth as you spray the base of the fire.

7. Evaluate appliances wisely and look for the UL Mark. When purchasing electric cooking products such as electric knives, slow cookers and food processors, look for the UL Mark. The UL Mark is one of the most widely recognized and trusted safety symbols among consumers, and confirms a product has been tested and certified to meet specific safety standards.

Thanksgiving Safety Tips for the Ambitious Cook
8. Be extremely cautious if using a turkey fryer. Because turkey fryers pose a number of distinct safety concerns, including burn and fire hazards, UL has decided not to certify any turkey fryers. If a family decides they must use a turkey fryer this Thanksgiving, UL urges them to be extremely cautious read its turkey fryer safety tips at www.UL.com/Consumers.
9. Always keep a potholder, oven mitt and lid handy while cooking. If a small fire starts in a pan on the stove, put on a flame-resistant oven mitt and smother the flames by carefully sliding the lid over the pan. Turn off the burner. Don't remove the lid until the food has cooled.
o When removing lids on hot pans, tilt them away from you to protect your face and hands from steam. If there is an oven fire, turn off the heat and keep the door closed to prevent flames from burning you or your clothing.

10. Do not pour water on a grease fire. Pouring water on a grease fire can cause the fire to spread.

11. Never put a glass casserole or lid on the stove or over a burner. If the glass gets hot and explodes, it will send shards of glass in all directions causing harm to anything in its path.
You Might Also Like
{Updated; Originally posted on November 19, 2009}