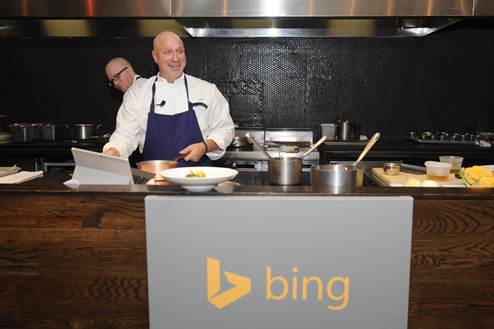 Top Chef Judge Tom Colicchio (Craft Restaurant) shared some tips for throwing the "perfect" holiday get-together.
Tips on making hosting holiday get-togethers stress-free without losing the "wow" factor
1. Plan ahead and prep. Tom advises that home cooks take a page from professional chefs who live and die by their mise en place – a fancy term for having all ingredients prepped and ready to go. Cube the bread for stuffing, chop all the veggies, grate any cheeses the day before. You won't even have to pick up your knife on Thanksgiving until it's time to carve your turkey, and you'll have a lot more time to enjoy your family.
2. Simplify your menu. Thanksgiving menus can get out of control with a dozen side dishes, but Tom says it's no less special if you streamline to just a few. Tom's recipe for Stewed apricots and fennel with ricotta, pistachios and black pepper is memorable, but fairly simple and much of it can be done ahead.
3. Feeling inspired by seasonal ingredients? Memories of holidays past tied to specific flavors? Tom recommends searching online. There are hundreds of thousands of recipes from renowned chefs like him, plus Epicurious, Food52 and others. You can search by ingredient and find endless inspiration.
4. Don't fear your microwave. Reheat simple things like vegetable purees in the microwave when it's time to serve your meal. It's faster, saves a pot to clean, and you won't risk scorching it on the stovetop.
Tips on starting with the ingredients, not the recipe
5.  Flavor pairing: Tom says that if it grows together it goes together. It's no coincidence that all the vegetables that comprise ratatouille, for example, are in season at the same time. This time of year he craves butternut squash and apples.
6. Stay local: When possible, choose local foods. The more recently something was picked, the better it will taste.
7.  Get inspired: He picks up ideas from other chefs, including contestants on Top Chef. He'd never had bacon jam, for example, until a contestant put it on his plate. Put your own twist on it. After trying something in a restaurant, you can search for similar recipes to get additional ideas.
{Updated; Originally posted on November 12, 2013. These tips were from a Bing (Microsoft's search engine) event for their Bing Food & Drink App, which no longer exists.}
You Might Also Like