#BackToSchool was trending on Twitter this morning and my Facebook feed is filled with photos of my friends' adorable kids going back to school. Meanwhile, NYC public school students don't go back to school until September 8th. I'm not complaining because I have been enjoying having my (teacher) husband and sons home this summer. I'm in no rush for them to go back to work or school. The time is near though. This week, my husband Reggie is buying our younger son's back to school supplies. He received his elementary school list of materials on the last day of school back in June. Meanwhile, we'll have to wait until the first week of school to get Michael's middle school supplies because he only received his English class supply list.
One of the places that we will be shopping at for back to school supplies is Office Depot. We have found some great deals there in the past and hope to do so this year also. (Tip: Check their Weekly Deals for great savings.)  Most moms have a list of items that they need to get for their kids "back to school" lists. I don't know about you, but I often feel "left out" of the shopping fun during the Back to School shopping time. While it's fun to shop for new supplies, clothing, shoes and such for the kids, I think that we moms should get some special supplies for ourselves too. That is why I'm excited to partner with Office Depot to offer one lucky Mom in the City reader her own special "back to school supplies" – a TUL Custom Note-Taking System Bundle.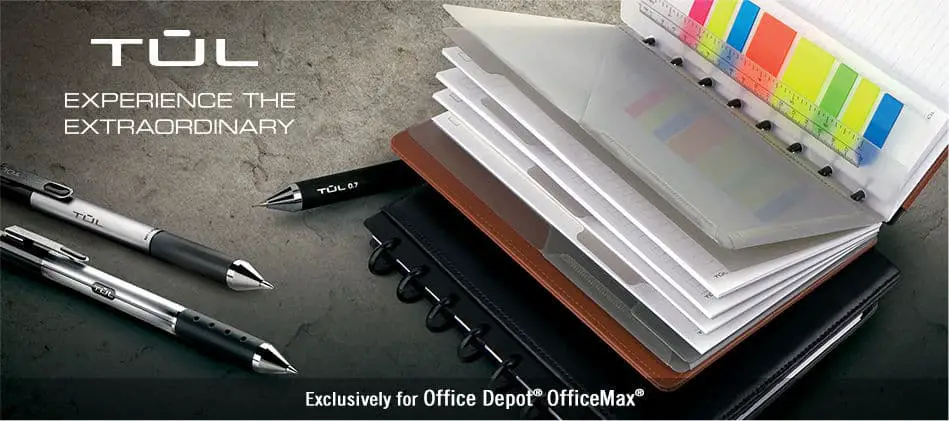 Review
I mentioned how impressed I was with the TUL system when I was first introduced to it back at Blogger Bash. Like most moms, I am constantly juggling a variety of "balls" so it is super important that I stay as organized as possible. The thing that I like about this note system is that I can customize it to meet my needs. I especially love how I can move the pages around easily based on my wishes. You can choose the size of your notebook (I like the junior size so that it can fit easily into my purse.); pick various papers (lined, graph, "to-do", etc.) and add different dividers. The system even has its own hole puncher so that you can add other items to your notebook.
I like that there are 5 tab dividers. That fits perfectly with my "Top 5":
1. Faith (and Ministry)
2. Fitness (and Appearance)
3. Family (and Friends & Home)
4. Finances (and Work)
5. Fun
(What can I say? I like alliteration. 🙂 )
Anyway, since I have several things to do for each of my "Top 5", I can have a page for each thing in my TUL notebook and move them to the back of their section once they are completed. I love that! I'm the paper lover in my family while my husband is the pen lover. He has already "permanently borrowed" my TUL pens…
Giveaway
Now, for the fun part…. Office Depot is giving one Mom in the City reader everything that I received to review. The winner will receive the following:
TUL Note taking system
-notebook (junior size with leather cover)
-additional paper (50 To-Do sheets)
-dividers (tab and pocket)
-hole puncher
plus
-2 pens
Entry Instructions