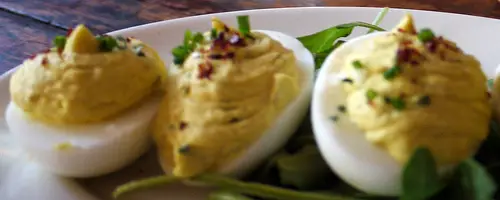 Visiting my family in Virginia this past weekend made me think about my easy deviled eggs recipe. My husband, sons and I had gone over to my father's house to eat crabs. (Eating crabs is one of my "must-do" food things when I'm at home.) I had no idea that my mother-in-law had planned an entire cookout.
When I came in, she mentioned that she had some eggs boiling so that she could prepare some deviled eggs. Happy dance! You can take the girl out of the south but you can't take the south out of the girl. Although I live in NYC, I still tend to make deviled eggs for gatherings of friends and/or family. They are easy to make and consistent crowd pleasers.
When people ask me how to make deviled eggs, they are often surprised at how easy it is to make them. The only thing that I don't like about deviled eggs is that they are hard to serve. You need a special deviled eggs tray so that they don't keep sliding all over the place! Anyway, here is my easy deviled eggs recipe:
Simple Deviled Eggs Recipe
Ingredients:
6 large hard-boiled eggs
3 tbsp mayonnaise
2 tbsp sweet relish
2 tsp yellow mustard
Salt and pepper, to taste
Paprika (for sprinkling)
Directions:
1. Slice the eggs in half. Gently scoop the egg yolks out and place them in a small bowl.
2. Mix the egg yolks, mayo, mustard, relish, salt and pepper together until the filling reaches your desired consistency.
3. Scoop the filling into the egg whites.
4. (Optional) Sprinkle the eggs with paprika before serving.
Recipe Notes:
Feel free to experiment with the measurements in order to make the filling match your tastes. For instance, sometimes I use 1 tsp. of mustard instead of 2 if I know that the person who will be eating the eggs doesn't like the mustard taste a lot. (I have "particular" eaters in my life so I adjust accordingly!)
I like to chill the filling (covered in the refrigerator) an hour before filling the egg whites and serving the deviled eggs.
Another thing that I love about this deviled eggs recipe is that it is very versatile. Once you have the basic recipe, you can add extra toppings or additions. For instance, I have had them with bacon and/or shredded cheese on top. Sometimes, I even add avocado or hot sauce to the basic filling.  Experiment and enjoy!
If you enjoyed this post, please share it. In addition, consider signing up for my weekly email newsletter so that you don't miss future updates. Thanks!