As I mentioned in the soul food Thanksgiving recipes post earlier this week, I have been testing a honey jerk turkey recipe. Well, the testing is over and the honey jerk air fryer turkey legs recipe makes an amazing dish!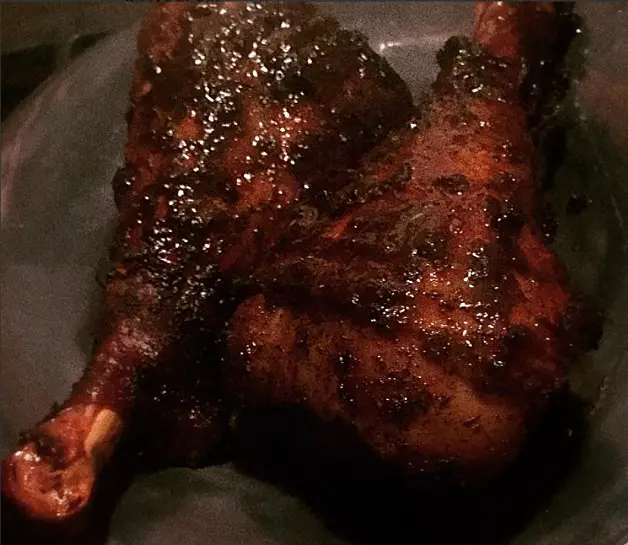 Only two legs fit in my air fryer at a time so I'm not sure whether or not I'll make them for Thanksgiving since everybody wants their own leg. The guys in my home like the honey jerk version better than the slow cooker turkey legs so I'll probably end up making them anyway.
I initially considered the honey jerk turkey leg combination after seeing  @crabbaemaplewood restaurant post about their honey jerk turkey from last year on Instagram. That flavor combo sounded good so I tested it on chicken first. It was so good that I tried it on the turkey legs.
Anyway, I'm sharing the easy recipe with you today. Enjoy it for Thanksgiving…or any day.
Easy Air Fryer Turkey Legs Recipe
Honey Jerk Turkey Legs
Serves: 2-4

Ingredients:
2 turkey legs (totaling approximately 2 lbs)
Salt and black pepper
2 tbsp honey
Directions:
1. Lightly spray the fryer with your favorite oil and preheat the fryer to 400 degrees Fahrenheit for 5 minutes.
2. Pat the turkey legs dry before sprinkling them with salt and pepper. Spread the honey and jerk seasoning all over the legs. Make sure to get the seasonings under the skin too.*
3. Place the turkey legs in the preheated air fryer basket.
4. Cook the legs for 50 minutes at 400 degrees. (Carefully turn them over at the 25-minute mark.)
5. After removing the turkey legs from the air fryer, let them rest for 5-10 minutes before serving.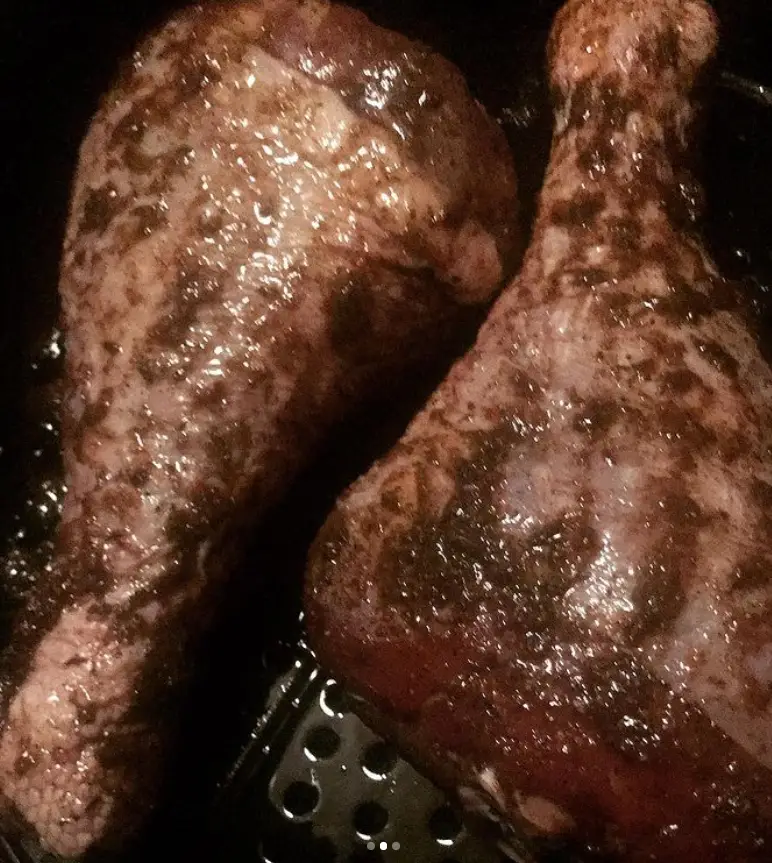 Recipe Notes
-*I like to let the turkey legs marinate for a couple of hours or even overnight if possible. It's not necessary though.

-How long to cook turkey legs in an air fryer depends on the air fryer model that you are using. I have seen a range of from 30 to 50 minutes total cooking time. I initially tried 40 minutes but the legs weren't fully cooked. Fifty minutes was the sweet spot for me. (I use a MooSoo air fryer.)
It's good to know that you can cook turkey legs in an air fryer. These easy honey jerk turkey legs were so good. The skin was crispy and the meat was tender. I'll definitely make this dish again.

If you found this easy honey jerk turkey legs recipe helpful, please share it.