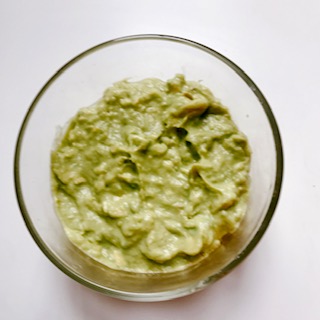 I love Starbucks so much that sometimes I need to take a break from our love affair – for the sake of my wallet and waistline. There are two main Starbucks items that I currently enjoy the most – their caramel frappuccinos and avocado spread. Fortunately, I experimented and came up with my own copycat avocado spread recipe though.
If you like avocados, I think that you will appreciate this quick and easy treat. Enjoy!
Easy Avocado Spread Recipe
Avocado Spread
Ingredients:
2 tbsp onion, chopped
2 garlic cloves
2 tsp jalapeno pepper
2 medium-sized Haas ripe avocados
1 tbsp lime juice
1 tsp sea salt (or to taste)
Directions:
Blend the onion, garlic, and jalapeno in a blender or food processor until smooth.
Mash the avocado and lime juice together in a bowl. (I use a fork to do this.)
Add the blended ingredients to the bowl and mix everything together.
Season the spread with sea salt.
You can use the spread right away. It will usually last 1 – 2 days if you refrigerate it in an air-tight container. Like lemon juice, the lime juice actually helps to keep it fresh so that the avocado doesn't turn brown right away.
Ways To Use This Avocado Spread
This creamy spread is similar to guacamole. That is why I have used its leftovers on my soft tacos. There are many other ways to use this spread though. Some of my favorite ways include:
Using it as a creamy avocado dip for tortilla chips or pita chips
Eating it over salads as a dressing
Using it as a sandwich spread
Having it with scrambled eggs
Spreading it on whole wheat bread toast (avocado toast!) or bagels with a drizzle of olive oil and a sprinkle of Everything But The Bagel seasoning
My homemade creamy avocado spread recipe tastes like the Starbucks one. The main difference is that the Starbucks avocado spread is a bright green. My avocado recipes are never that bright!

Despite the color difference, there is so much to like about this healthy spread. It's a great alternative that is quick, easy, vegan and keto-friendly. I hope that your whole family enjoys it too.
If you enjoyed this post, please share it. In addition, consider signing up for my weekly email newsletter so that you don't miss future updates. Thanks!
You Might Also Like