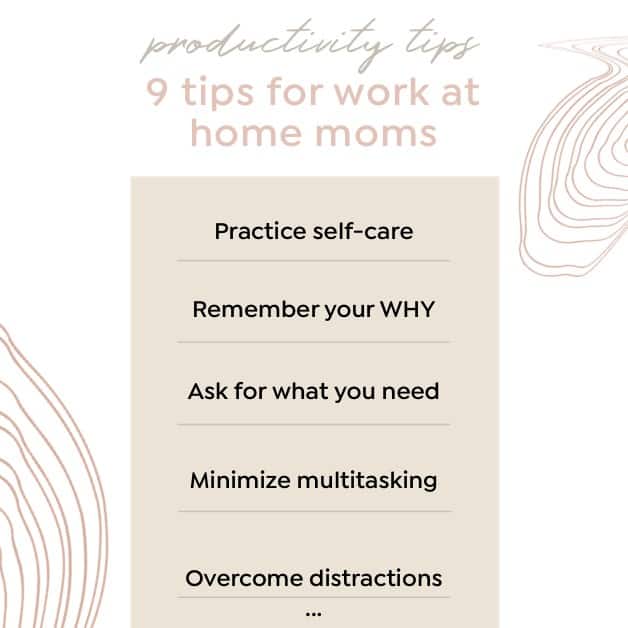 It can be challenging to be productive and get things done when you're working from home. Adding "back-up teacher" to the mix (since many of our kids are practicing distance learning) can make the work-life juggle harder. Fortunately, as moms, we tend to have the "make it work" gene. 😊 That is why I am sharing some of my favorite productivity tips in this post.
I have been working from home for over 15 years BUT last year's unexpected remote schooling reality was an adjustment for me too. If you are still adjusting to this new reality, you are not alone. To assist, I want to share 9 practical productivity tips based on personal lessons from 2020.
9 Productivity Tips
1. Create a Morning Routine
Start your day with self-care – whatever that looks like for you. Some people are dogmatic regarding what morning routines should look like. I am not. In reality, it doesn't even need to be a morning routine. It can be whatever time that fits the best in your days. Personally, if I don't get my routine done in the morning, it's probably not going to happen. That's why I do a morning routine.

The point of a morning routine is to take time to care for yourself in the midst of taking care of everyone and everything else. It's the "put on your own mask" concept. (On airplanes, you are directed to put on your own mask before aiding anyone else if there is an emergency.) My routine includes reading my Bible, praying, journaling and doing a half-hour workout.
The great thing about a routine is that it is flexible. If you want ideas about what to include in yours, Hal Elrod's The Miracle Morning: The Not-So-Obvious Secret Guaranteed to Transform Your Life (Before 8AM)  is a great resource. It's the book that introduced me to the concept of morning routines with its SAVERS (Silence, Affirmations, Visualization, Exercise, Reading and Scribing) concept.
2. Plan Ahead
Planning is key. I plan work like I plan the rest of my life (3-year vision, 1-year vision, 3-month goals, 1-month goals). I will focus on how I plan my weeks and days though.

The way that I plan is to do a "brain dump" of everything that I need to do for the upcoming week. In the past, I did this on Fridays, the end of my work week, but I now do it on Sundays when I'm planning everything else.

I'm a paper person, so I take a piece of blank paper and write down everything that I want to accomplish. It's very rare that everything on my big list gets put on my actual work calendar though. Everything isn't equally important so I ask myself the following questions:
Next, I take out my calendar and write down which day of the week I will do each of the things on my shortened list. Although I LOVE paper, my new favorite planning tool is Trello, an online list-making/calendar tool. It is AMAZING. I have already loosely planned out the first 3 months of 2021 on it. Try it out (for FREE)…it might benefit you too.

Lastly, at the end of each day, I plan my top 3 work"to-dos" for the next day.

I have been pretty consistent with the way that I plan over the years. I have made some "tweaks" but my planning routine is still very similar to the one that I shared in my January 2018 4 Habits That Will Increase Productivity at Work post.
3. Consider Working in Time Blocks
Splitting my day into blocks of time is very beneficial. I basically have three 2-hour blocks of work each day. Since I'm a content creator, one block is for email, social media and research (curation). The other two blocks are for creation. My Mondays and Fridays are a bit different though. On those days, I have blocks for strategy, tech, advertising, customer smiles/service, etc. on those days.)
Cal Newport, a Georgetown University professor and author, also advocates partitioning your days into blocks of time and assigning specific work to the blocks. He writes about it in his book Deep Work (Rules for Focused Success in a Distracted World) and often discusses it on his podcast, Deep Questions With Cal Newport.
You can get so much done in focused time blocks. In the past, I have used the Pomodora technique method to split the time. Developed by Francesco Cirillo in the late 1980s, this involves using a timer to break down your work into segments of work separated by short breaks. Traditionally, it's a repeated 25 minutes of work followed by a 5-minute break. I preferred to do a 50-minute/10-minute split though.

Now, I take a short break after my first 2- hour work session and take an hour-long lunch break with my family after the second block. Another option is entrepreneur trainer Eben Pagan's 60-60-30 Solution. With that one, you work in 2 blocks of 1 hour lengths before taking a 30-minute break. These are all great options but ultimately, do what works best for you.
4. Have the Right Tools
I will not go to deeply into this because I covered my favorites in the 11 Helpful Work From Home Gift Ideas 2020 post last month. In it, I mentioned that I had bought 5 pairs of noise-canceling headphones for my family during these stay-at-home times. (They really do provide boundaries and mental space.) 
I will add that getting a fresh journal, planner and/or calendar is a fun way to kick off a new year. Last year, I spent time making my own quarterly planner. (See How to Make Your Own 3 Month Planner.) This year I'm not even bothering to do so. The cute, basic 2021 weekly & monthly planner that I received for Christmas is good enough.
5. Decrease Tech Distractions
We lose so much time from distracting interruptions – especially tech ones. The good news is that we can control when we check our phones, email, social media, web browsers, etc. I don't get automatic notifications for anything. I find out what is happening when I actually go on the site or app.

I also keep my cell phone on airplane mode during work blocks. Our home phone has an answering machine which takes messages that I can hear. Close family and friends know to call me on my home phone and speak into the answering machine if they need me for anything urgent.

You can disconnect and defeat tech distractions too.
6. Minimize Multitasking
Try not to do more than one task at a time…especially complex tasks. Doing that actually reduces productivity because the brain doesn't really do multiple tasks at the same time. In reality, we are just switching tasks back and forth quickly. As a result, we actually often end up losing time by multitasking.

A resource that stopped me from seeing multitasking as a great thing was one of my favorite books, The ONE Thing. In addition to the book, there are several posts about the reality that multitasking makes you less effective on its companion The ONE Thing website.

There are three other articles that I think do a great job of explaining why multitasking doesn't really make us more efficient. They are the following:
7. Have Necessary Conversations
It's your responsibility to set boundaries and ask for what you need. We can't expect other people (family members, friends, work colleagues, etc.) to read our minds. We have to tell people what we want and/or need.

These types of conversations can be challenging – especially when you have mixed feelings. For instance, I recently needed to have a talk with my husband Reggie and our sons about constantly coming into the room where I was working.

I love the fact that they want to be around me and talk to me during their class breaks BUT it totally distracts me from whatever I'm doing. "You're always available," one of my sons said. I had to clarify things for him. In case of an emergency, I am available. I am not always available for non-urgent conversations or to quiz them 15 minutes before their tests without advance notice though.

Meanwhile, I told my husband that a closed door means don't come in. I just have to remember to completely close the door when I don't want to be disturbed. If it's "ajar", he will still come in. 🤷🏾‍♀️
I should get one of these adorable "do not disturb" door hangers.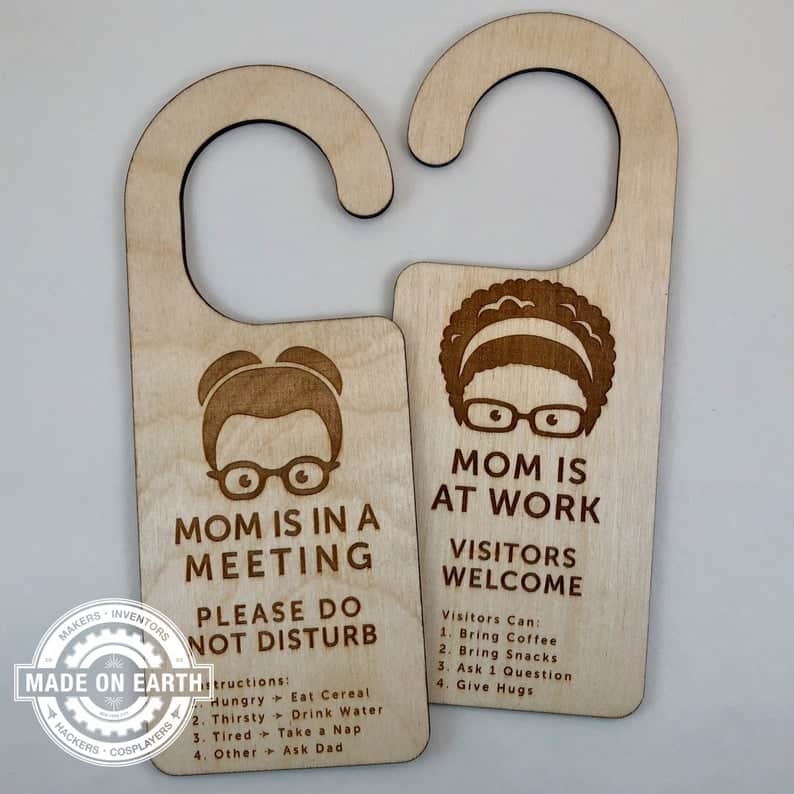 If you need more guidance regarding setting boundaries, POPSUGAR Fitness has a good post, How to More Effectively Set Boundaries, According to Therapists.
8. Rest
This is one of my favorite productivity tips. People say that "sleep is for the weak". I disagree. Sleep is for the strong! I think that people would be happier, more productive and less irritable if they were getting adequate rest.

My husband recently sent me an Inc.com article, This Doctor Says Humans Actually Need 7 Kinds of Rest (and You're Probably Not Getting All of Them). I thought that I was okay in the rest department because I take breaks during the day and get the recommended 7-8 hours of sleep that falls within the National Sleep Foundation guidelines. After reading the article, I realized that I need more mental, sensory and creative rest.
9. Remember Your WHY
I became a work from home mom so that I could be available time-wise for my sons and to provide financially for my family. I'm very grateful that I have been able to do both for the past 15+ years.

Everyone has a different "WHY". Figure out yours and keep it at the forefront of your mind. I also recommend having it written down somewhere visible. That visual reminder provides encouragement on the most challenging days.
I hope that these 9 productivity tips help you enjoy the work-life juggle a bit more. If you find any of these tips valuable, please share this post. Thanks!

Most of all, please remember to be gracious with yourself. Everyone has different work and life situations so just do what you can. That's (more than) enough.
You Might Also Like