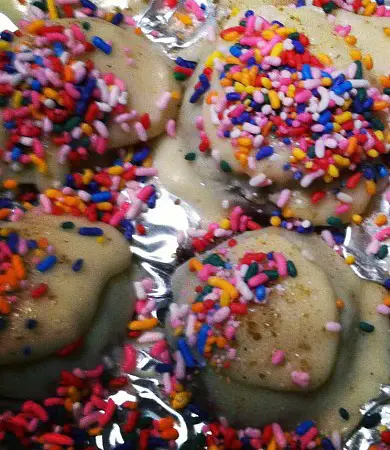 My baby, no scratch that, my big kid turned four this week! Four! Where has the time gone? It is one of those parenting mysteries that I can't figure out, but also one that I am trying to enjoy as much as I can. To celebrate her birthday and the upcoming Valentine's Day holiday, we made mini-cupcakes together. Since a kid in her class is a vegan I was presented with the challenge to create a tasty cupcake that did not include any butter, milk or eggs as well as a dairy-free icing. I scoured the web and found various recipes that sounded good but I wasn't sure how they would stack up and bake given that it was my first time making a cupcake of this nature. With my little (I mean big) kid helping me out we created a combination of a recipe from Chow.com and a variation of an icing recipe that I have used for years. The result was a delicious dairy-free cupcake that we loved making just as much as we loved eating. Enjoy this chocolate almond vegan cupcakes recipe!
Chocolate Almond Vegan Cupcakes
Yield: 12-15 cupcakes
Variation from Chow.com
Ingredients:
1 cup almond milk
3/4 cup granulated sugar
3/4 cup brown sugar
1/3 cup vegetable oil
1 tsp vanilla extract
1/2 tsp almond extract, chocolate extract, or more vanilla extract
1 cup almond flour
1/3 cup cocoa powder, Dutch-processed or regular
3/4 tsp baking soda
1/2 tsp baking powder
1/4 tsp salt
Directions:
Preheat the oven to 350°F and line a muffin pan with muffin cups.
Beat together the almond milk with the sugars, oil and extracts. Mix in the flour, cocoa powder, baking soda, baking powder, and salt.
Pour the mixture into the liners and bake for 20 minutes.
Frost when the cupcakes are completely cooled down.
Vegan Frosting
Ingredients:
1 cup shortening – I used Earth's Balance (I normally use regular butter)
3 cups confectioners sugar, sifted if clumpy
2 tsp vanilla extract
1 tsp almond extract
1 cup almond milk (I normally use whole milk)
Rainbow sprinkles, optional
Directions:
Add the shortening to a pot. Turn on the stove and let it melt.
Remove the pot from the stove and add the shortening to a bowl. Add the sugar to the shortening and mix everything together. Add the almond milk and extracts and whip everything together until it is fluffy.
Let the frosting set and slather it on the cooled cupcakes. (If the cupcakes are warm, then the frosting will melt on them!). Add décor such as sprinkles (optional).
You might also like: