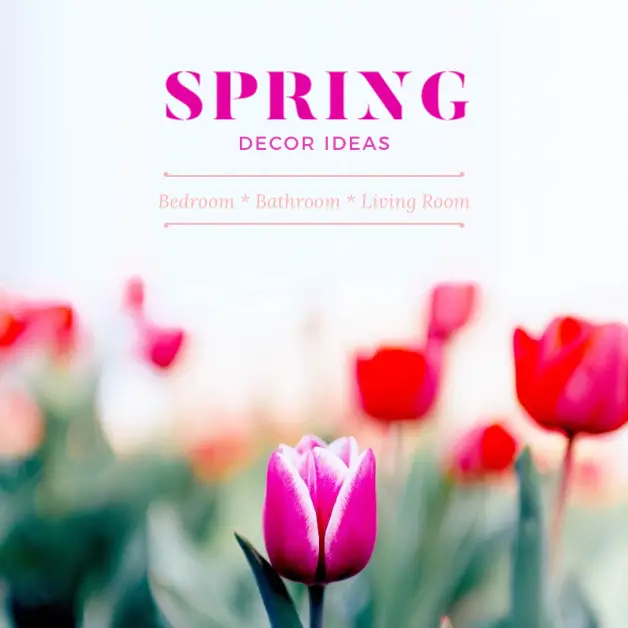 When I like the Pantone Color of the Year, I usually update my bedroom and bathroom with the colors. Since I really like the Pantone Colors of the Year 2021 (Illuminati Yellow and Ultimate Gray), I added a few items to our living room in addition to the bedroom and bathroom. I want to share these bright spring decor ideas with you in case you are looking for some bright, affordable home finds too.
Spring Decor Ideas
Bathroom Picks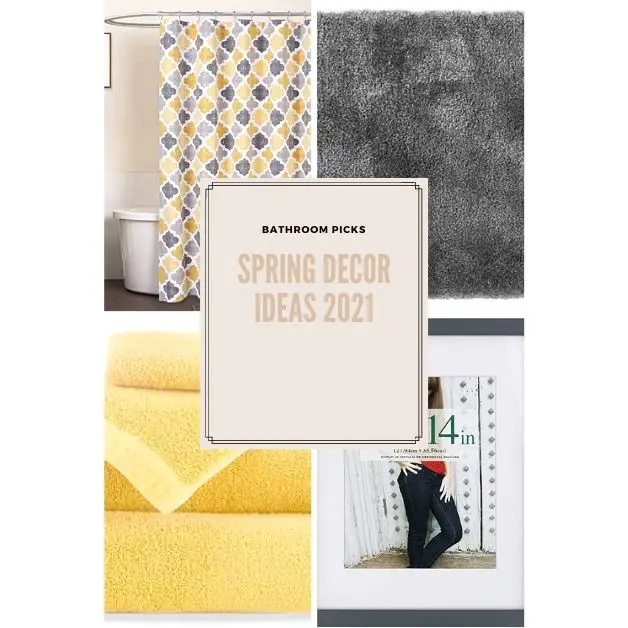 My personal bathroom is really small. I updated it with a new shower curtain, towels, rugs and wall art.

1. It can be challenging to find reasonably priced 84-inch long curtains but this CAROMIO Yellow/Grey one on Amazon was a good fit. ($26.99)
2. For something gray, I bought the Wamsutta® Duet 17-Inch x 24-Inch Bath Rug from Bed, Bath & Beyond. ($14.99)

3. The IZOD® Classic Egyptian Cotton Bath Towel in Lemon from Bed, Bath & Beyond brought in a bright pop of yellow. ($9.99)

4. To bring the yellow and gray together, I created a quote image and framed it. The frame is from Amazon – the RPJC 11×14 inch Picture Frame Made of Solid Wood and High Definition Glass Display Pictures 8×10 with Mat or 11×14 Without Mat for Wall Mounting Photo. ($14.99)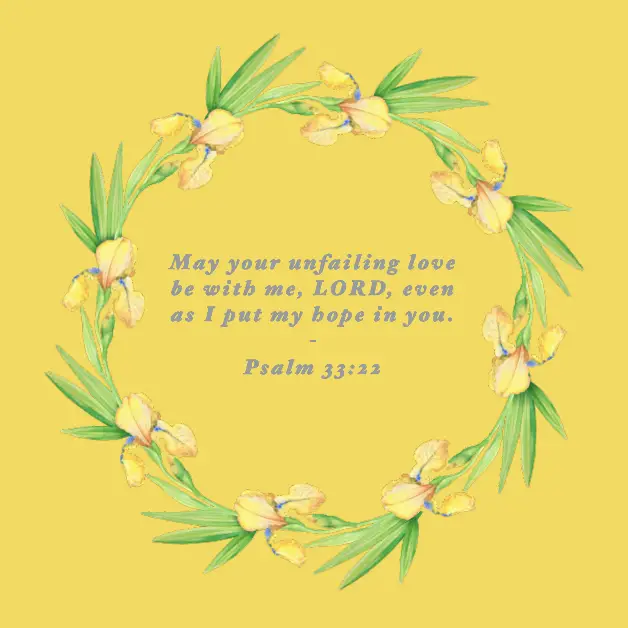 Bedroom Picks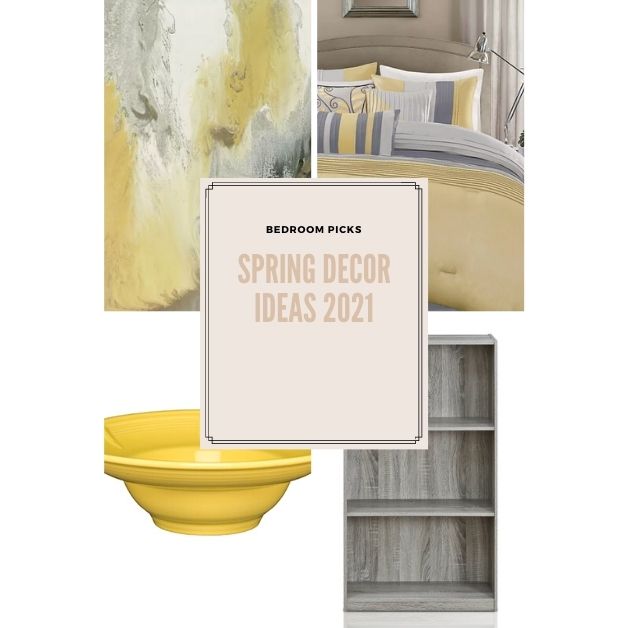 I'm a minimalist, so I usually just get a piece of wall art, a comforter set and a bright bowl for my dresser. As one of this year's spring decor ideas, I also added an inexpensive little bookshelf since my (teacher) husband's math books were starting to overtake our bedroom/his second classroom.

1 & 2. I picked Madison Park's wall art and comforter set from Bed Bath & Beyond. Madison Park 36-Inch Square Blissful Yellow Gel Coated Canvas Wall Art ($79.99) and Madison Park® Amherst 7-Piece Queen Comforter Set in Yellow ($119.99)

3. Wayfair's Signature Decorative Bowl by Fiesta Color in SunflowerPrice was a bit smaller than I anticipated but it still makes a nice sunshiney accent. ($29.99)

4. Wayfair's Barhorst 39.5″ H x 21.75″ W Standard Bookcase by Ebern Designs in the French Oak Gray color also fits in nicely with the yellow and gray colors. ($48.99)
Living Room Picks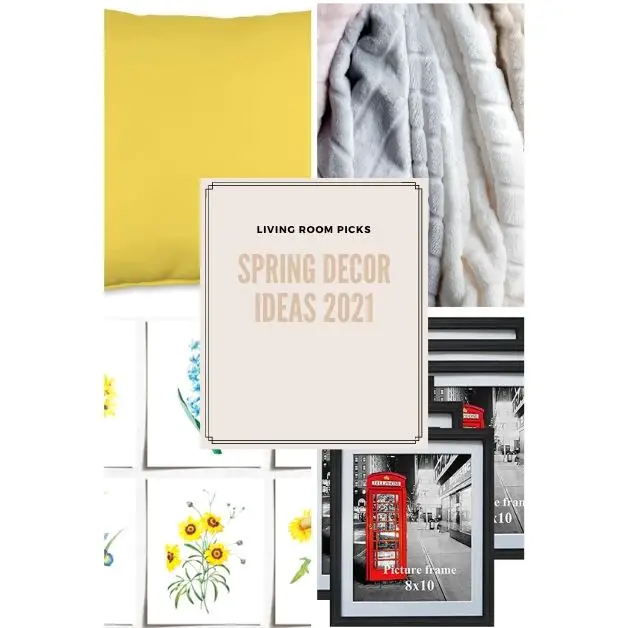 I purchased the items for my bathroom and bedroom around Christmas. I liked the yellow and gray color scheme so much that I recently added a few items to brighten up our living room also.
1. I have mentioned my fondness for throw pillows before. Since I couldn't find ones that I especially loved, I made a whole collection of spring throw pillows. I purchased two of the solid yellow throw pillows. ($19.99/each)
2. Along with throw pillows, my family needs a nice comfy throw to snuggle up under. Pottery Barn sells our all-time favorite throws but they didn't have one in the gray color that I wanted. I bought this soft, light gray faux fur throw on Etsy and it is super comfortable too. ($39.99)
3 & 4. I have been wanting to change the wall art above my sofa for a while but nothing really "called" to me. Remember…I'm a minimalist. If I don't "love it", I just wait until there is something that I prefer.

Well, I really liked this set of vintage floral prints that I found on Etsy. ($22) The yellows and blues blend in well with my primarily blue living room. I bought a set of (6) 8×10 Black Picture Frames with Mat from Amazon to frame the prints. ($30.99)
I really enjoyed decorating with the 2021 Colors of the Year. It was fun to brighten up my home in a way that fits within my budget. If you enjoyed these spring decor ideas, please share this post. In addition, consider signing up for my weekly email newsletter so that you don't miss future updates. Thanks!
Home Decor Giveaway
To help you add a little color to your home, I'm giving away a $50 gift card. (You can choose between Amazon, Bed Bath & Beyond, Etsy or Wayfair.)

To enter the giveaway, simply let me know a home decor item that you would like to buy. Send an email with the answer to [email protected] This giveaway will end on April 30, 2021, at 11:59 pm EST.
(Mom in the City Giveaway Rules) 
You Might Also Like